Will the bold question that we've asked in this week's episode of the Inside Line F1 Podcast be answered in a frank manner by Cricket fans? Both Rishi and I agree that Cricket is a religion in India, but will Sachin Tendulkar fans feel the same as we did when Michael Schumacher retired? Yes, retirement is tough for fans to digest, but then again, Formula1 fans digested Schumacher's retirement twice! So there's still some way to go for Tendulkar fans!!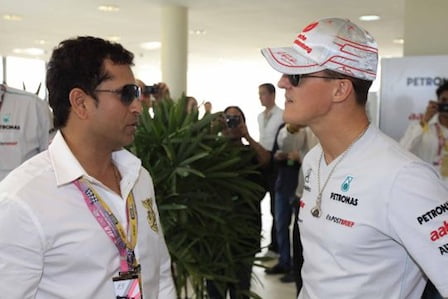 After Mercedes and Ferrari stole away Vettel's thunder in the last two Grand Prixs, we will not let Tendulkar's retirement do the same this time. Helmets off to Sebastian Vettel yet again for a brilliant drive. You can read more on his win in Suzuka here: Vettel and Suzuka win! And of course, here's all one would like to know about Apple's iPhone5S-ebastian.
In many ways than one, the 2013 Japanese Grand Prix set the benchmark in terms of modern Formula1 racing. A perfect blend of wheel-to-wheel racing followed by smart tyre strategy and the right calls on driver penalties, wouldn't we wish all F1 races were similar!
And here's what's in store for you in this week's episode of our Formula1 Podcast: (YouTube link: http://youtu.be/ETC0C2bWnkM)
First and foremost, are ESPNStar and Sports India serious about Formula1 broadcast in India? I am very annoyed, still.
Driver of the Day and our Overtaking of the Day in Suzuka.
Hulkenberg – Alonso, story for the rest of the 2014 Formula1 Season?
Also, it was a very unlike Japanese GP if you analyse the overtaking moves.
Lotus lost the race because of two reasons and neither of them is Romain Grosjean.
On the note of penalties, did we reach our season's highest in Suzuka?
Shouldn't Mercedes's crew receive a penalty for Rosberg's unsafe release? If so, hear what would their penalty should be!
Caterham Moto Racing Team launched. Sigh!
Applaud for Mahindra Racing team's maiden podium finish in the Moto3 race in Sepang and for Sahara Force India Academy driver Jehan Daruvala's triumph in the 2013 British KF3 Championship.
Up next is the 2013 Indian Grand Prix. And do you think that the Indian GP organisers should do what Indian reality TV shows do?
And some Indian Grand Prix / Indian Motorsport related posts for your reading:

The Inside Line F1 Podcast is now available on various platforms and I would urge you to choose your platform to listen to the humour that we add to the otherwise serious and complex sport of Formula1.
If you are an Apple user, you can subscribe to the Inside Line F1 Podcast on the iTunes Podcast Store or via our RSS feed (for Android/Windows /Blackberry users).
The Inside Line Formula1 Podcast is produced and hosted by Rishi Kapoor and Kunal Shah. Follow us on Twitter and on our Soundcloud, MixCloud and YouTube channels.