The 2013 Malaysian Grand Prix provided all the excitement on and off track. My post 'Emotions, Tensions And Vettel Score A Win' saw debates and opinions fly all over on my Formula1 blog and on social media. While the initial comments were all in favour of Webber, the scales tilted Vettel and his ruthlessness as fans slept over the incident! Hopefully Webber did too…!
Given the incidents and topics in Sepang over the Malaysian GP weekend, Rishi and I had to make an effort to keep this Formula1 podcast short and simple. When I saw the final length, I knew we had succeeded in our efforts. Here's what's in store for you: (YouTube channel: http://youtu.be/AzSWTirNixl)
Multi 21, we try and dissect the term! Rishi gets innovative in his ways, again.
Webber vs Vettel, we give our view on the situation. We try and establish how both drivers saw the incident. And did this incident showcase an imbalance of power in Red Bull Racing?
Also, could Red Bull Racing have managed this better? And we mean like Brawn did at Mercedes? And is this Ross Brawn's last season in Formula1?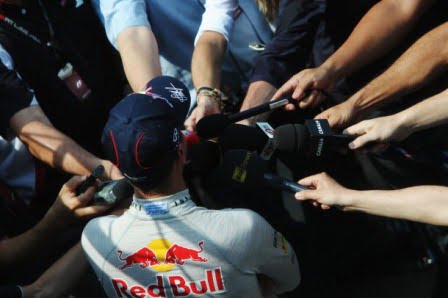 On the Hamilton vs Rosberg incident, we offer our view too. Will Brawn take Rosberg's side when it is time to?
Rishi's question – 'Why on earth did Perez pit on the penultimate lap'? And I try answer!
What if Mclaren serviced Hamilton's Mercedes? Who would FIA penalize and why?
Finally, Ferrari and Alonso's first lap mistake. Argh! Who is to blame?
And Rishi believes that there was one driver who used Harry Potter's 'invisibility cloak' in Sepang. Any guesses who it was?
We try and establish why Jules Bianchi and Marussia were probably the only happy team-driver pair to leave Sepang on Sunday night!
Much like Narain and Karun, we too move away from Formula1 as we go talking about Narain's switch to AutoGP and Karun's decision to race in the FIA GT Series. Some interesting content for Indian Motorsport fans!
And as Rishi asks, is controversy good for sport? Go hear what our view is…!
Our earlier podcast 'If Schumacher Turns TV Commentator' received some rave reviews. If you've not heard it already, go ahead and do so.
For those keen to read, here's the latest on Narain Karthikeyan and Karun Chandhok:
And my favourite post on Newey and Brawn: 'Will We See Adrian Newey vs Ross Brawn Finally?'
Inside Line Formula1 Podcast is produced by Rishi Kapoor and Kunal Shah. Follow us on Twitter and on our Soundcloud and YouTube channels.