The 2012 Drivers' Championship title was decided in a nerve wracking race in Brazil, the last race of the 2012 Formula1 season. The upside was that we had a really exciting race; the downside is that there will be no Formula1 action for nearly 4 months! Before we sulk about the lack of action, we have a new World Champion to celebrate! And if you are an Alonso fan, sulking is what it will be till the action resumes…
Here's what we discussed in our latest Formula1 podcast: (Also the 2012 Brazilian Grand Prix Race Report)
Vettel a worthy champion? Rishi and I almost get into a cat fight! Hear both our views! Hear it!
Worthy champion or not, Vettel was a bundle of nerves in the opening lap of the race! Did the crash with Senna wake him up? I dig into a bit of psychology!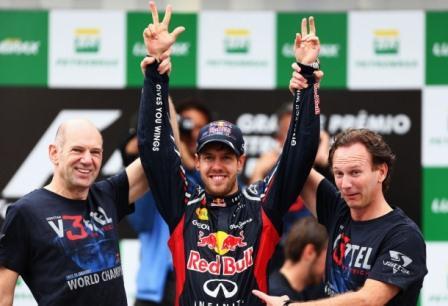 Raikkonen a brilliant entertainer, but there's one driver we will sorely miss – Schumacher!
And the camera shot of a distraught Alonso post-race. My heart goes out to him…!
Interlagos, does it ever fail to entertain? We love it! Hulkenberg loves it even more?
Sadly, he and Sahara Force India weren't able to win their first ever Formula1 race…why the drive-thru, why!
Raikkonen went up the wrong circuit! Now we would love to hear that radio conversation. Would he have still said 'Leave me alone! I know what I am doing!'?
Caterham vs Marussia, they didn't fail to entertain as well!
Hamilton crashed in his last race for Mclaren, but his comment about Hulkenberg was totally uncalled for. Did you hear it?
And we ask a few interesting questions towards the end of our podcast for our listeners to respond to. Hear the link and leave your comments, as Rishi says always 'we love to hear from you!'
Also, Formula1 fans, worry not, we are lining up a special package to keep you entertained this off-season. And if there are any topics you'd like us to discuss, debate and fight over, do share it with us. As always, we are happy to talk Formula1! Over to you…!
***
At the end of the current, I am happy to share with you earlier posts that were well subscribed to: