When Rishi and I recorded Inside Line F1 Podcast's latest episode 'Time To Hit The Spa' earlier this week, we knew that there's no better circuit than the Spa Francorchamps to mark Formula1's return to action after a forced mid-season break.
The circuit characteristics (7kms long, Eau Rouge, Kemmel Straight, Pouhon, Blanchimont, Bus Stop Chicane) and the ever changing weather usually offers one of the most edge-of-the-seat sessions and the qualifying session was a testimony to that! And it was the one 'extra' qualifying lap for the top 4 that made all the difference in the end!
During the course of the mid-season break and in the build up to the 2013 Belgian Grand Prix, rumours about Raikkonen moving from Lotus to either Red Bull Racing or Ferrari intensified as did the talk whether we would see yet another Red Bull Racing vs. Mercedes battle or would Ferrari and Lotus be able to bring their act together? (Read: Adrian Newey vs. Ross Brawn)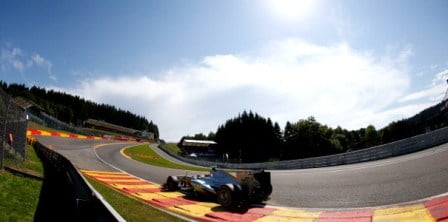 Qualifying Results:
Lewis Hamilton: 31st career pole, 4th straight pole of the season, increasingly the favourite to win the race tomorrow. Hamilton's lap was a surprise to the team and the driver especially since it came in the dying moments of the session and in extremely tricky conditions. But isn't he after all known for his mixed weather racing talent? Too early to talk about his championship challenge, but a win tomorrow will surely bolster his chances against Vettel! And then again, were Mercedes sandbagging though the Free Practice sessions? I would certainly think yes!
Sebastian Vettel: Wasn't too unhappy to have missed pole by 2 tenths. But can still challenge for the win. He could still be leading the race by Turn 1, at the end of the Kemmel Straight or by the end of lap 1. What do you reckon?
Mark Webber: A further tenth away from Vettel, Webber too could win tomorrow's race, unless 'multi 12' or 'multi 21' gets in his way. Either way, we've seen that team orders haven't deterred Vettel in the past. (Read: Multi21, Team Orders And PR Talk)
Nico Rosberg: Can he take the fight to the Bulls and aid Hamilton's championship challenge by finishing ahead of Vettel?
Paul Di Resta: Agonizing to see the Sahara Force India driver in P5 after an excellent decision by the team to send him out on inters while the others skid around on slicks. Could he have maintained pole had he pitted for fresher tyres and stayed out on track? A case of so near, yet so far! But P5 (career best) is a great position to start the race from and hopefully a podium in sight?
Jenson Button: If we have mixed conditions in the race, will we see him finish higher up the order?
Romain Grosjean: Ahead of Kimi, can he finish ahead in the race?
Kimi Raikkonen: Got one lap less in qualifying and the result is a lowly P8. Why does he always leave his fight for Race Day? Not the best way to attack Vettel for the championship.
Fernando Alonso: Shocking result for many! Ferrari need to revamp their strategy team it seems! Again, he had a lap less than his Red Bull Racing and Mercedes counterparts. In mixed conditions, that extra lap is always priceless!
Felipe Massa: In Q3, next to Alonso, job done for Massa?
Nico Hulkenberg: Missed Q3 by less than half a tenth. The Hulk likes the mixed weather conditions but will the C32 make him a force to reckon with in the race?
Adrian Sutil: Disappointed to see him P12, but he missed Q3 by a tenth. Has all the work to do to get in the points tomorrow!
Sergio Perez: A second down on Button and elimination in Q2!
Giedo Van Der Garde: Career best! Ballsy decision by Caterham to send out their drivers on slicks in Q1. Gamble worked!
Jules Bianchi: Again a tyre gamble that worked for Marussia. Will Bianchi join Ferrari in 2014?
Max Chilton: Two tenths down on Bianchi. Can he beat him this season?
Pastor Maldonado: Led a double Williams exit in Q1. Can Williams keep his millions but replace him with someone more deserving?
Jean Eric Vergne: Most disappointed for Vergne. After having a fantastic run through the FP session, a wrong tyre strategy by the teams saw him being eliminated in Q1. Will his Toro Rosso have the pace to fight and finish in the points tomorrow? And also, will Red Bull Racing take note of his increased pace over Ricciardo while selecting Webber's replacement? I hope they would!
Daniel Ricciardo: After Kimi, he was the most talked about driver in the Paddock in the build up to the weekend. Needs to produce a stellar drive (like Paul Di Resta in Monaco and Silverstone) to score points and further press for Webber's seat.
Valtteri Bottas: Given his performance in a wet Canada, I expected him to do better!
Esteban Gutierrez: Did well in FP3 but suffered from an early elimination in qualifying.
Charles Pic: The team took a late decision to change from inters to slicks for Pic and as a result he qualified dead last.
If the mixed weather conditions reappear during the race, we are in for a cracker of an afternoon. There could be no better way to spend your Sunday afternoon than tuning into the Formula1 broadcast! But before that, what are your predictions?
And of course, fans have reacted to the sounds of the new power units (1.6L V6) that will be used next year. Also, the Indian Grand Prix seems to be fighting a lost battle against the FOM (and the Indian Govt. All that and more is covered in my post: 'Let Us Save Formula1' and of course, 'Ecclestone Checkmates The Indian GP'.