The 2013 Belgian Grand Prix Race Day was a bit of an anti-climax. One of the reasons I say this is because of the no-show of rain! I can't be blamed much, because it was only a day before that the mixed weather conditions spiced up things in qualifying: '2013 Belgian GP Qualifying: As Mad As It Can Get'.
Much of what I shared in my pre-race podcast (Inside Line F1 Podcast: Time To Hit The Spa), came true. We witnessed a Red Bull Racing vs. Mercedes battle and some gritty driving by Alonso ensured that Ferrari played a part too. I had also predicted that Vettel could snatch the race lead at the exit of the La Source hairpin or by the end of the Kemmel Straight and he did so a few kilometres before at the exit of Eau Rouge! Of course, what I didn't predict was the presence of the Greenpeace protestors at Spa!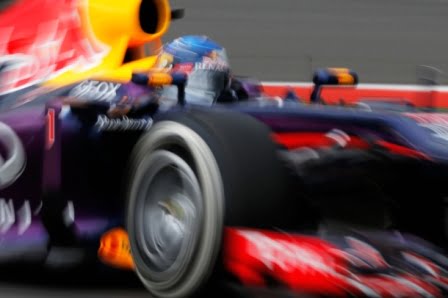 Race Results:
Sebastian Vettel: 31st career win in just 112 starts is truly an astonishing statistic. The title is Vettel's to lose. He drove in dominant fashion and controlled the pace of the race at his will. A well-deserved victory and 25 championship points. His 46 points lead is most comfortable and his highest ever margin in the 2013 Formula1 Season. And for those interested in statistics, he completed his 2000th lap in the lead!
Fernando Alonso: P9 to P2 is a commendable effort, although he lost vital championship points to Vettel. What is even less believable is that the twin World Champion has never won at Spa! Could he have challenged Vettel for victory had he started higher up the grid? And after a qualifying gaffe by Ferrari, their tyre strategy did well to help Alonso jump Hamilton in the round of pit-stops. With Vettel seeming miles ahead, the focus would shift to second place in the Drivers' Championship with Alonso and Raikkonen going head-to-head. Will they possibly be team-mates for Ferrari in the 2014 Formula1 Season?
Lewis Hamilton: P1 to P3 shouldn't please the Brit, but he would take heart in extracting his car's potential to the max. The Mercedes needs more work to be stronger in the races on a consistent basis. Cherry on the cake for Hamilton? Overtaking Raikkonen for third in the Championship standings. His 54th career podium.
Nico Rosberg: A relatively quiet weekend for the other Mercedes driver where he finished 2 seconds away from the podium. Will he be able to turn things in his favour at Monza?
Mark Webber: A slow start meant he had to do the hard work to regain places in the race. P5 when your team-mate has convincingly isn't the best testimony for your race weekend. But hasn't this occurred way too many times in the Vettel-Webber partnership?
Jenson Button: Worked well in tandem with his engineer to explore the best possible tyre strategy for the race. P6 was the best Mclaren could manage in the race. It shows that their updates over the summer weeks have worked and crucially helped them overtake Sahara Force India for 5th in the championship.
Felipe Massa
Romain Grosjean: Thankfully no unwanted drama on the opening lap! And it was the first time in his Formula1 career (I guess), where he's won a penalty in his favour!
Adrian Sutil: P12 to P9, gritty drive to score two points for his team.
Daniel Ricciardo: P19 to P10 should please the Red Bull bosses and expedite his contract for next season?
Sergio Perez: Slightly unfair drive-through penalty for the Mexican for non-incident with Grosjean. But I guess his reputation preceded himself?
Jean Eric Vergne: A downhill of a weekend. Strong in FP sessions. Disastrous qualifying. No points in the race!
Nico Hulkenberg: Err!
Esteban Gutierrez
Valtteri Bottas
Giedo Van Der Garde
Pastor Maldonado: What a nutcase! Just what a nutcase! Cost Paul Di Resta potential points.
Jules Bianchi
Max Chilton
Did Not Finish:
Paul Di Resta: Good qualifying. Wheel spinning start. Good opening lap. Potential points finish. And then Maldonado happened. Sigh!
Kimi Raikkonen: Ended a streak of 38 consecutive finishes, out of which 27 were points finishes. Dents his Drivers' Championship chances furthermore.
Charles Pic: Last in qualifying. First retiree of the race. Weekend to forget.
The 2013 Italian Grand Prix is next and isn't it an absolute treat for Formula1 fans to have Spa followed by Monza?
And there was talk about Michelin keen on re-entering the sport in 2014, while these could be rumours, I certainly believe that Pirelli should not renew their Formula1 contract for 2014. Yes, that's also like me saying in support of Greenpeace that Shell shouldn't continue drilling for oil in the Arctic region.