Sebastian Vettel's brilliant run in the 2013 Formula1 Season ended with him equalling compatriot Michael Schumacher's record of 13 Grand Prix wins in a single season. Given Vettel's ruthless dominance, it was inevitable! Sebastian Vettel = Michael Schumacher = 13 wins a season = Inevitable!
And much as Rishi and a few Formula1 fans would've like, I am glad he didn't 'gift' his win to his team-mate Mark Webber; would've been the worst 'Thank You' gift!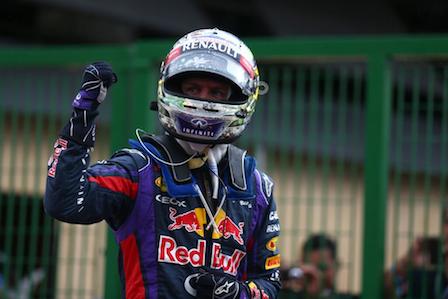 The 2013 Brazilian Grand Prix also showcased a rare display of emotions in the sport. The pre-race guard of honour for Felipe Massa by Ferrari mechanics followed by a teary-eyed Mark Webber removing his helmet on his in-lap (trying to dry his tears in the wind, was he?) to Vettel's post-race donuts and Massa's half donuts brought out a certain human element of the sport which otherwise gets masked by the mandatory use of crash helmets. This is also where Formula1 loses out to other sports in terms of fan interest, but this discussion is for another day!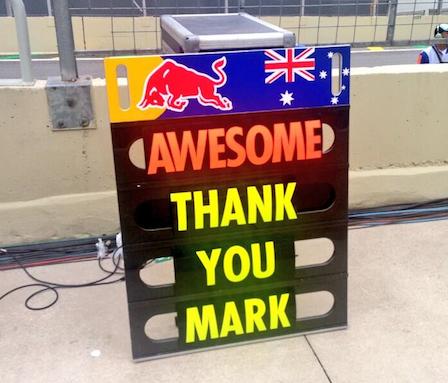 The rain/no-rain scenario certainly kept the teams, drivers and fans at the edge of their seats much as the multiple overtaking maneuvers across the track. While the Drivers' & Constructors' Championship were sealed much earlier, the fight for runners up was made interesting by the FIA after they awarded a questionable drive-through penalty to Felipe Massa (what's your view?) for crossing the pit-entry line followed by a justified one to Lewis Hamilton for causing a collision on track.
The end of the GP also signalled the end of the V8 era in Formula1. And if the engines had a way to protest, I think Grosjean's engine going up in smoke in the opening few laps was a very visible way. His retirement and Kovalainen's P14 finish meant that Lotus failed to score points and fight their way up the Constructors' Championship. They wrapped up the season in 4th place. And as we expect ugly cars and 1.6 litre V6 engines in the 2014 Formula1 Season, we do believe that we need to 'Save Formula1'.
The best part of the weekend for me was that the teams and drivers entered the race with no tyre usage data in the dry and had to react in real-time rather than act (teams usually premeditate their stops and tyre strategy) on their tyre strategies. And of course, the team that did it best was Mclaren as both their drivers charged up the pack and finished nearly 10 places ahead of their starting positions. Jenson Button, driver of the day?
And the worst part of the weekend would be that there would be a few drivers who wouldn't know if this was possibly their last Formula1 race ever. But life's unfair and as I have said so before, it is even more unfair if you're a Formula1 driver.
The next race is only in March 2014, but before that, we have nearly half a dozen cockpits waiting to be confirmed, new sponsors and of course the new car and engine launches, followed by early pre-season testing in February. And that still doesn't give you your fix, Rishi and I will bring to you your weekly dose of Formula1 humour, so do tune in.
Race Results:
Sebastian Vettel
Mark Webber
Fernando Alonso
Jenson Button
Nico Rosberg
Sergio Perez
Felipe Massa
Nico Hulkenberg
Lewis Hamilton
Daniel Ricciardo
Paul Di Resta
Esteban Gutierrez
Adrian Sutil
Heikki Kovalainen
Jean Eric Vergne
Pastor Maldonado
Jules Bianchi
Giedo Van Der Garde
Max Chilton
Did Not Finish:
Charles Pic
Valtteri Bottas
Romain Grosjean
The post-Brazilian Grand Prix episode of the Inside Line F1 Podcast will be live on Tuesday, if you'd like us to air your views on the 2013 Formula1 Season, please feel free to leave them in the comments section below.
And of course, like 2012, we will be back with our Formula1 Podcast Awards in the off-season, so there's a lot to look forward to. Keep Racing!