And one thought that rain would be the only way to stop Sebastian Vettel's record breaking charge! And much like the previous occasions in the 2013 Formula1 Season, Sebastian Vettel proved everyone wrong has he netted pole position in the 2013 Brazilian Grand Prix; his 9th pole of the season.
Such was his driving prowess that his nearest competitor was nearly 6 tenths slower; motivation certainly isn't lacking in our quadruple World Champion and neither is talent, so what is? Humility isn't the answer…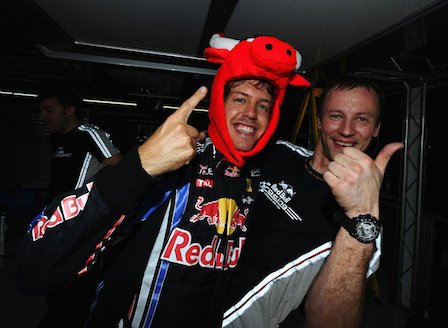 In a wet qualifying session, the usual suspects came out on top with Rosberg in P2 followed by Alonso who drove a mega lap himself to qualify his otherwise slow Ferrari on the front two rows. The biggest disappointment for me in this session was Lewis Hamilton (P5) who is known to excel in such conditions; he was also my pick for the only driver who could beat Vettel to pole position.
The other disappointment of course was FIA's reason to delay Q3 for nearly 30 mins due to standing water on the track (now what is Interlagos without its running water stream?) which made me wonder altogether, why do Pirelli manufacture and bring wet weather tyres to a racing event if we're not going to use them?
I am not sure of the weather predictions for Race Day, but I do hope that we have a race without delays; I wouldn't want to give Star Sports even the slightest of reasons to change their programming away from the last Grand Prix of the season. (Read: Ditched by Star Sports; Formula1 fans will thank TATA)
Sebastian Vettel
Nico Rosberg
Fernando Alonso
Mark Webber
Lewis Hamilton
Romain Grosjean
Daniel Ricciardo
Jean Eric Vergne
Felipe Massa
Nico Hulkenberg
Heikki Kovalainen
Paul Di Resta
Valtteri Bottas
Sergio Perez
Jenson Button
Adrian Sutil
Pastor Maldonado
Esteban Gutierrez
Charles Pic
Giedo Van Der Garde
Jules Bianchi
Max Chilton
And like we said in our pre-Brazil episode of the Inside Line F1 Podcast, Felipe Massa could well be the most cheered driver in Brazil today. So what are your predictions?