It actually is number 3 for Vettel. He clinched his 3rd pole position in Valencia, he was nearly 3 tenths ahead of Hamilton and he could be on course for his 3rd win here! Also, this is Vettel's 33rd Formula1 career pole! And we still could have the possibility of 8 winners out of 8 races this season.
Here are my thoughts from the 2012 European Grand Prix Qualifying:
Q3:
Sebastian Vettel was my favourite for pole position, but I didn't expect him to be ahead of the pack by three tenths! Kudos! Unfortunately for Red Bull Racing, Webber qualified only in P19.
I expected Hamilton to battle for pole but seemed unable to challenge Vettel. He starts from P2, whereas Button, who is using Hamilton's set-up will start P9. Button was 4 tenths off!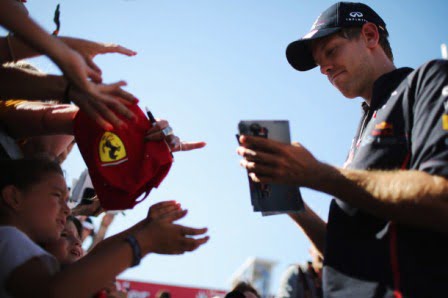 In my podcasts with RJ Rishi Kapoor, I have been critical of Maldonado for the last few races, however, he did well to put his Williams on P3, 0.030 of a second ahead of Grosjean's Lotus.
The time difference between Grosjean and Raikkonen's qualifying time was 0.008 of a second! With both Lotuses managing a top 5 starting slot, they are well in contention for victory tomorrow. They have showcased better race pace than the others in the last few races.
Mercedes was expected to be fighting for pole too, however, Rosberg could only manage P6, 6 tenths off Vettel's pace. A tenth behind him is Sauber's Kobayashi, whose late charge propelled him from P10 to P7, ahead of Button's Mclaren and the two Sahara Force Indias.
Hulkenberg out-qualified Di Resta by two tenths and will start from P8, whereas Di Resta will start P10. This was the first time both Sahara Force India cars managed entry into Q3.
Q2:
The biggest disappointments of this session were Alonso, Schumacher and Massa, who ultimately will start P11, P12 and P13.
However, this was possibly the closest Q2 session this season with the top 13 drivers separated only by 3 tenths.
Alonso and Massa's elimination meant that there was no Ferrari in Q3, a disappointment for the Spanish Formula1 fans. Massa did match Alonso's pace yet again, but will be disappointed that he was 13th and last of the front lapping drivers.
A glance at the time sheets would indicate how close this session actually was. Alonso missed the Q3 time by 0.067 of a second! However, he will have extra sets of tyres to use in the race.
This would be the second time Schumacher would be starting outside the top 10 this season. The time difference to Rosberg was 2 tenths.
Sauber rookie and star of the 2012 Canadian Grand Prix, Perez could only manage a disappointing 15th place.
The star of Q2 of course was Caterham's Heikki Kovalainen. He will start tomorrow's race from P16, his best starting position this year. He also started the 2012 Bahrain Grand Prix from P16.
Kovalainen's Q1 lap was 4 tenths quicker than team-mate Petrov and in Q2, he managed to out-qualify the Toro Rosso of Ricciardo by a tenth!
Q1:
Mark Webber was the shock retirement from this session. He suffered hydraulic problems on his car due to suspect gearbox and DRS issue. He starts the race from P19. It would be interesting to see his tyre strategy and if he is capable of coming up the ranks in the race tomorrow.
Vergne also got eliminated in this session, his 5th Q1 exit in 8 races this season. He starts P18. I wonder if Buemi and Alguersuari are waiting for a call from Marko to get back in that cockpit!
HRT, the Spanish owned team, did well in qualifying as they out-qualified Pic's Marussia by a tenth of a second. De la Rosa was 4 tenths ahead of Karthikeyan!
And Marussia could only field one driver in qualifying as Glock sat out due to a stomach bug. Pic could only manage a P23. I wonder if Glock will be able to start tomorrow's race, if not, should they not have given this opportunity to their reserve driver to gain some track experience?
Who could win the 2012 European Grand Prix? Well, this could be anyone's guess. However, I do have a feeling that the fight for victory will be between Vettel, Hamilton and the two Lotuses, though I do hope that Rosberg, Kobayashi and the two Sahara Force Indias enter the fight for podium as well. And could anyone ever leave Alonso out of the equation? Also, should Button not manage a good result and score points, he could well see himself out of the championship equation. Tomorrow's race should give some direction to an otherwise unpredictable championship!
Hear RJ Rishi Kapoor and I talk about the 2012 European Grand Prix being held in Valencia this weekend on our weekly Formula1 Podcast.