Except for Max Verstappen and his bold maneuvers on track, I got bored during the broadcast of the 2015 Chinese Grand Prix. Okay, I admit, Pastor Maldonado entertained too, in parts. But that was it! Post-race, I wondered, what's wrong with Formula1? And I couldn't find a direct answer.
After a drab 2014 Formula1 Season, we have two marquee manufacturer teams battling for wins on track – Ferrari vs. Mercedes. In this, we have (yet) two World Champions fighting at the front – Vettel vs. Hamilton, not so typical a script for Formula1 for the last few seasons. We also have another former World Champion (Raikkonen) in a Ferrari trying to find his way to the front; not to mention, the other Mercedes driver (Rosberg) who desperately wants to win his first World Championship too. My point is that we finally have a battle of sorts to follow.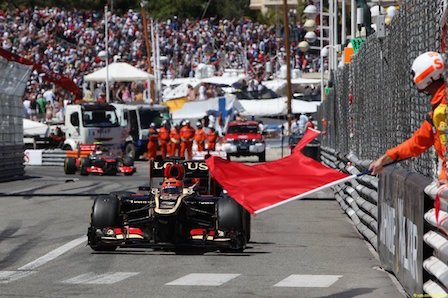 Add to this mix, Mclaren are patiently trying to script their comeback with Honda. That Alonso and Button are fighting hard to avoid the last two slots in the race classification is fun to watch too. We also have a competitive Williams – after nearly a decade and Toro Rosso, who seem faster than Red Bull Racing. All in all, there are battles (however small) taking place for nearly every position on the grid. (Read: Thank You Mclaren)
We also have fresh talent who have impressed (yet) in their debut season – Nasr, Sainz Jr., Verstappen and maybe Ericsson too. When we interviewed David Coulthard on the Inside Line F1 Podcast, he admitted that the newer formula is relatively easier to drive, but that is beside the point. The younger drivers have battled hard and have entertained us well, of course, scored much needed points for their teams. (Read: Formula One or Formula Rookie?)
Despite this, I wondered, what is wrong with Formula1? Why are fans consistently turning away from the sport? I can't remember many tweets / posts from fans who have enjoyed the races this year barring Malaysia – attributing that to the element of surprise! (Read: Game On, Ferrari)
Is it the new 'formula' in the sport? Are we in such a stage of technical complexity that it is a turn-off for most of the fans? Is it the lack of engine sound? Is the Mercedes dominance and the lack of performance by Ferrari, Mclaren and Red Bull Racing hurting more than it should? Is the business of Formula1 affecting the sport directly for the first time? Or is the negativity about teams shutting down, or struggling to line-up on the grid the problem? (Read: Your Chance To Own An F1 Team)
Is the migration of the sport of newer territories affecting the traditional fan base? Is it Bernie Ecclestone's leadership or the FIA's lack of direction? Or is there a mismatch between what the fans are expecting and the sport is delivering? (Read: Formula One Needs Better Marketing)
Despite being involved with the sport for many years, I am unable to pinpoint where the problem lies. But I believe much of the questions that I have asked have some or the other answer which add up to the issues the sport faces. And while I am unable to pinpoint, I think I am able to list down my expectations from the sport (which I shall share in my next post). (Read: What Formula One Can Learn From Red Bull)
This is where I would like to invite fan comments. Tell me what you believe the issues with the sport are? Maybe if I get a good number of responses, I will send this post with the comments to FOM for them to refer as 'fan survey'!
And I know this post isn't one that will generate much of a positive response. The first negative response was from my co-driver and partner-in-crime Mithila Mehta who argued that the sport has made progress from last year on the very points I have raised above. But then again, she's a purist, like many others who will read this blog post. Most of these purists would watch the sport even if there were only two cars racing each other on track! Let's face it, we didn't tune away from the six car grid in the 2005 United States Grand Prix!
Lastly, here's your chance to tune in to the latest episode of the Inside Line F1 Podcast 'Max Worst-happened'. The title credit goes to my father (Atul Shah). Yes, we are an out-an-out Formula1 family!
We speak about Max Verstappen's entertaining drive, followed by Alonso and Raikkonen's championship winning comments. Lastly, we pray that Rosberg takes the fight to Hamilton, because the Ferrari vs. Mercedes seems more hype than substance. Tune in!
The Inside Line F1 Podcast is now available on various platforms and I would welcome you to choose your platform to listen to the humour that we add to the otherwise serious and complex sport of Formula1. And while our podcast frequency is weekly, come 'like' the Inside Line F1 Podcast on Facebook and on Google+ for far frequent humorous updates from the world of Formula1.
If you are an Apple user, you can subscribe to the Inside Line F1 Podcast on the iTunes Podcast Store or via our RSS feed (for Android/Windows/Blackberry users). The Inside Line F1 Podcast is also available on TuneIn Radio.
The Inside Line Formula1 Podcast is produced and hosted by Rishi Kapoor and Kunal Shah. Follow us on Twitter and on our Soundcloud, DailyMotion, Spreaker, MixCloud and YouTube channels.