Every new Formula1 season throws up this one race which then becomes your most memorable race of that season. I think the 2014 Bahrain Grand Prix is possibly just that race which fans will sit back and remember the 2014 Formula1 Season for. Especially if you're an Indian Formula1 fan and, or love Sahara Force India and their drivers Sergio Perez and Nico Hulkenberg.
While the Mercedes drivers did what was expected of them, it was the Sahara Force India team and their drivers that caught everyone else by surprise and how. Sergio Perez's podium was only the tip of the iceberg for me as they overtook the Mclarens, Ferraris and Red Bulls at their own whim! Kudos to everyone at Silverstone and today is one of those days when I sit back and LOVE my job and yes our maximum points haul at the GP weekend yet! #FeelTheForce! (Read: What's The Pecking Order?)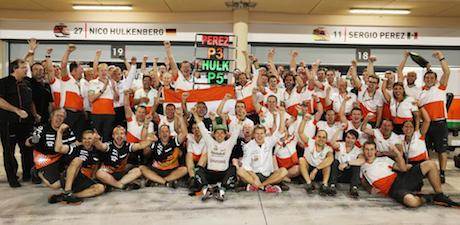 The Indian team is now second in the Constructors' Championship and Nico Hulkenberg is third in the Drivers' Championship table. Super consistent results have propelled the team ahead of the heavier weights and names on the grid!
If you're a Mercedes fan, you would've had your heart racing when the team let the drivers race each other. If you're not a Mercedes fan, this is the moment when you should turn into one. Rarely would you see a top team let their drivers race each other this hard and that too multiple times in a race!
In my post-qualifying report (Read: Rosberg Strikes Back), I had predicted that the driver who would lead at the end of the first lap would go on to win the race. But it wasn't as simple as that as Rosberg, on a faster tyre strategy, made it extremely difficult for Hamilton to hold on to the lead. But eventually, it was the Brit who persisted! Yes, there was that one swipe which I am sure will become a bone of contention between the two drivers in the races to come.
Mclaren suffered a double retirement and Ferraris ran at pace worthy of a mid-field team. The Red Bulls came alive after the Safety Car period and still managed to score double points just ahead of the Williams duo. Yes, if one understands the sport, you would agree that Sahara Force India's 3rd and 5th place finish was aided by the Safety Car period.

And of course, you shouldn't be surprised to know that Pastor Maldonado's stupid antics flipped the Sauber of Esteban Gutierrez under-braking into Turn 1. The PDVSA funded driver made an elementary mistake in the braking zone and the low nose design did its 'un-safety' like trick! The supremely inconsistent FIA has given him a 5 place grid penalty for the 2014 Chinese Grand Prix and 3 penalty points. What's strange is that Ricciardo was given a 10 place grid penalty for an unsafe release!
From a historic point of view, I think Formula1 delivered a brilliant spectacle in its 900th Grand Prix with team-mates battling all around the circuit while Bernie, Luca & Co. went about bad-mouthing the new regulations pre-race and their intent to change them! While I wouldn't disagree on a few tweaks, I think any major changes mid-season should be blatantly disagreed upon by teams, drivers, media and the fans. (Read: Fed Up Of Constant Rule Changes In F1)
It is the teams who have brought such super efficient regulations upon themselves without anticipating their effect on the fans and I think it is time we live with this gross mistake. And of course, if every race offers the spectacle that the 2014 Bahrain Grand Prix did, I wonder if we will still complain about the engine sounds!
Race Results:
Lewis Hamilton – Mercedes
Nico Rosberg – Mercedes
Sergio Perez – Sahara Force India
Daniel Ricciardo – Red Bull Racing
Nico Hulkenberg – Sahara Force India
Sebastian Vettel – Red Bull Racing
Felipe Massa – WilliamsF1
Valtteri Bottas – WilliamsF1
Fernando Alonso – Ferrari
Kimi Raikkonen – Ferrari
Daniil Kvyat – Toro Rosso
Romain Grosjean – Lotus
Max Chilton – Marussia
Pastor Maldonado – Lotus
Kamui Kobayashi – Caterham
Jules Bianchi – Marussia
Jenson Button – Mclaren
Did Not Finish:
Kevin Magnussen – Mclaren
Esteban Gutierrez – Sauber
Marcus Ericsson – Caterham
Jean Eric Vergne – Toro Rosso
Adrian Sutil – Sauber
We've complained about the lack of noise on the Inside Line F1 Podcast's episode 'Engine No-ise' and the teams have taken heed of our customer complaint and have agreed to look into the matter post the 2014 Spanish Grand Prix. Now can we do something about the double points system for the 2014 Abu Dhabi Grand Prix as well?