(Views expressed are personal; lengthy read but I hope you find it interesting!)
Bernie Ecclestone cited two words ("very political") as his reason to 'axe' the Indian Grand Prix from the calendar of the 2014 Formula1 season causing a furore amongst Indian Formula1 fans and media. I didn't check, but I am guessing that the topic was probably trending on Twitter. After all, there are reportedly 25 million (by ESPN!) Formula1 fans in India and I am certain that a high percentage of those fans are active social media users.
Within 24hrs of him uttering the 'two words', he confirmed that the Indian Grand Prix would be 'dropped' from the 2014 calendar and 'could' be back in 2015. The reasons cited (this time) were scheduling related, which also meant in some way that India can't pull off what Malaysia did in 2000. FOM wants to host the Indian GP in the first half of the season, preferably during the first few rounds when the circus tours Australia, Malaysia, China and Bahrain. This seemed like a 'convenient' reason to offer indicating that India (more so JPSI) wouldn't be able to host two races in a span of 5 months! I don't entirely agree with this view, except that if it is difficult to get Indian fans to purchase an F1 ticket once in 12 months, it would be far more difficult to get him to purchase twice in 5 months!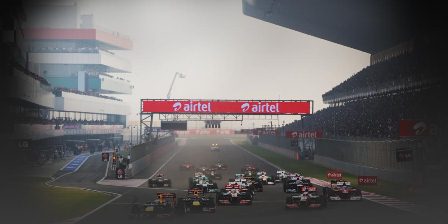 However, after tracking the developments (and editing this post nearly 5 times in 24hrs), I get a feeling that all is not hunky dory with the Indian Grand Prix organisers and FOM. And of course, Ecclestone has played a very smart move (almost a checkmate, I'd say) with JPSI. He's indicated a 'could' add to the 2015 calendar (no guarantees yet!), giving JPSI an indication that they have another year to get their act together (read: with the government issues) failing which Formula1 could bid a goodbye to India. So the writing is pretty clear on the wall, get the government to act in favour, else 'buckle your seatbelts Dorothy, 'cause Kansas, is going bye-bye!'.
At the same time, Ecclestone has ensured that he's kept everyone guessing about this possible inclusion, because the calendar for the 2015 Formula1 season would need to be submitted only in September 2014! And this also means that he has another year to convince teams and drivers to increase the number of races in a calendar year to more than 20! (Yippee!)
The other way of looking at this scenario is that Ecclestone too is worried about the 2014 General Elections (NaMo vs. RaGa) affecting viewership, followership and attendance of Formula1!! And if you are a Congress or BJP party worker, a sure shot way of attracting the 25 million strong F1 vote bank would be by publicly stating support for the Indian Grand Prix for the next ten years before the other party does!!
Why do I think things are not hunky dory? Read on. 'Political' reasons may be out of reach and understanding of the average Formula1 fan in India (this includes me too!), but a closer look at the numbers could reveal why there's a re-think to bring the circus to India. And before you proceed to read, please do keep in mind that while my Formula1 blog treats Formula1 as a sport first and then as a business, I have reversed the logic for this post.
After much confusion and talks of postponement the Indian Grand Prix had a grand opening in 2011. I had written several posts about the arrival of Formula1 in India; 'Sports Marketing Around The Indian Grand Prix' and 'Which Stand Is The Best At The Indian Grand Prix?' are still well read posts on my blog. The Buddh International Circuit (BIC) reported a near sell-out as fans, sponsors (and their guests), babus and media flocked the race. However, the 2012 Indian Grand Prix was when things started to go awry. The organisers struggled to sell tickets and the reported race attendance figures were far higher than the actual. (I wish I could access data on purchased vs. free tickets too!)
While the 2013 Indian Grand Prix ticket sales are yet to start, one wouldn't be surprised if it would meet with similar fate as the 2012 edition. OR is the announcement about the 'axe' a marketing ploy by FOM and JPSI to create urgency amongst fans and get them to purchase? It would be foolish to imagine so, strictly in my personal opinion. OR is this because JPSI has reportedly delayed their 2012 payment to FOM and Ecclestone wants to play his hand first by declaring India as a not-important market? Anyway, if one were to save the Indian Grand Prix from facing the axe, a long-term solution is needed. (No solutions in this post, just the problems!) And all this while, I was hoping that an Indian tyre supplier would replace Pirelli in 2014.
First, the pricing. The race hosting fees reported around $40 million per year always seemed extremely high for a nascent market (more like a first timer!) like India. To top it further, the number escalated annually by a further by 10%. The lesser known fact also is that when the JPSI (Jaypee Sports International) signed the contract with FOM, the dollar values were around 45-47 whereas now it has crossed the 60 mark! A further 15-18% increase in cost!
There are rumours that JPSI have requested Ecclestone to revise their race hosting fees and such a request isn't uncommon and has been favoured in the past with other circuits as well. But with New Jersey, Russia and now Austria willing to pay to host the race next season, a businessman of Ecclestone's acumen would certainly jump ship at the smell of new money! (Read: Formula1 Needs To Market Itself Better As It Enter New Territories) And of course, we rejoiced the return of Austria not knowing that it could be at the cost of India! (Read: A1 Ring Returns As Red Bull Ring)
In a typical market, this price escalation would trickle down to the consumers who would purchase the product. But in this case, F1 tickets were anyway too expensive for the Indian audience and an increase in price would've led to a further reduction in ticket sales. And ticket sales is one of the major revenue streams for JPSI to recover their expensive hosting fees! With this in mind and to boost ticket sales, the 2012 tickets were being sold at nearly 50% of their original value. Even after which the sale of tickets were nowhere near forecasted numbers, or numbers that would impress the balance sheet.
And importantly, Delhi is one of the major F1 markets in India, but not the only one. For Formula1 fans traveling to the BIC from across the country, the prohibitive cost of air travel coupled with lack of inexpensive accommodation near the circuit also turned a major deterrent. JPSI even offered free travel for ticket holders from the city to the circuit, but for many fans, the cost of watching the race in your own country was as (if not more) expensive as watching it in a 'foreign' country like Malaysia or Singapore! And given our mentality (I don't see anything wrong with it), the foreign destination always seems more sensible to visit. Because if I am seeing it in India, the 'Sir, 'match' ke liye 'pass' milega kya' is the preferred option!
Second, lack of government support. There are umpteen stories of Customs duties and the difficulty to bring through car parts and upgrades. It is also known that the Government of India treats Formula1 as entertainment and not a sport, hence there is a heavy tax levied on the Indian GP (added cost to consumer!). While the government has reaped Tourism benefits from the Indian GP (there's no official claim, but globally Govts. wouldn't be backing F1 if tourism benefits weren't proved) it has failed to support it back either with investments, tax breaks or even recognition as a sport. Moreover, F1 teams have been taxed on their revenues from the Indian GP and not the profit (I am still to confirm this), which doesn't seem like normal business practice. The other GPs that have run without government support are the United States GP (at Indianapolis) and the British GP (run by the BRDC). And we know what fate the USA GP suffered!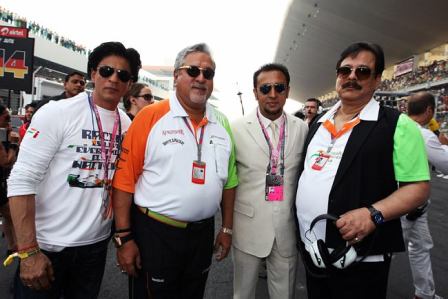 Third, the 25 million fans! The BIC can accommodate 100,000 fans each day of the Indian GP. While pricing has already been identified as a problem, I don't think fans came out in support of the race. And I mean financially! I am sure the race was consumed well on TV, online and on social media, but how many fans actually spent their own money and visited the race? How many fans bought authentic team merchandise? The numbers for the latter are low enough to keep the merchandise distributors away this year. And to think of it, BIC was relying on only a small % of the 25 million fans to spend money and visit their facilities! (Do the math!!)
Fourth, Formula1 itself. In some way, the Govt. of India's view isn't wrong after all. FOM is a private company that operates Formula1 as a business to earn profits. This is similar to the international DJs who come to India, perform, earn ticket revenues, pay taxes and leave. So why single out F1 alone? And even more so, is F1 spoilt for choice given that the other emerging markets are willing to offer these favourable breaks which only help increase its profits? But since I want the Indian GP to be hosted for years to come, I wish that dialogue between the Govt. and FOM and related parties will resolve all disputes. And Ecclestone is known to be a master at managing governments, but on his terms!
On the same note, there is little that the organisers make back with this association and it is known that rarely do hosting venues make a profit! The share of revenues from title sponsorship (Airtel in this case) and the track advertising and hospitality isn't even (can't remember what the % is!), making it all the more difficult for the organisers to break even on their investments, let alone make a profit. And for the lesser known, TV revenues are only for the F1 teams and FOM, no share for the circuit owners / organisers.
I have read various reports and comments stating that the track wasn't good enough and that the venue should've been Chennai or Coimbatore, which have traditionally been the hub for Indian Motorsport. But the irony is that in 2011 and 2012, the Indian Grand Prix was voted as the 'Best Promoter' amongst all the organisers. And I am not sure you agree, but the problems stated above would've existed even if the race was held in another city altogether. (Read: Can Mahendra Singh Dhoni Be The Ambassador For Indian Motorsport)
So what next for the BIC? Well, the investment by JPSI still stands through and the circuit will make alternate revenues via hosting the World Superbike, MotoGP (in the near future) and by renting out their track for track days to various automobile manufacturers (Yes, the silly stunt-y Tata Indigo ad was shot there!) and sports car clubs. To top that, the appreciation of land cost (even more so after the Yamuna Expressway) would add to JPSI's investments and hopefully the sale of real estate in their 'Jaypee Sports City' too (data left unchecked). But will this help recover the near $400 million investment made by the Jaypee Group? They certainly need to keep hosting the Indian GP and hope that traction will pick up and so will their F1 related revenues.
Also, they're in a spot with respect to the scheduling. Either host it in March / April or face exclusion from the calendar. While increasing summer heat in that period is something I guess the teams and drivers could get used to, but will the fans choose to step out in the afternoon sun? And Formula1 as a business could face serious lack of interest if it even remotely interferes with the IPL! (Read: What Formula1 Could Learn From the Indian Premier League)
Overall, I will be disappointed if the sport does leave our shores. While I know India as a country can't be ignored in the overall scheme of things, I think I would label Formula1's first attempt to establish itself in India could have done much better with government as well as fan support!
And now, after the lengthy read, here's Rishi Kapoor and me in this week's episode of the Inside Line F1 Podcast. I will keep things short, but we looked back at the 2013 Hungarian Grand Prix which was a fine balance between talent and tyres. So much so that we had difficulty in choosing our best driver! Although it was easy to choose the best overtaking move of the race! We talk about the August shutdown, what and why it is and how we will keep you entertained even while there is no action on track! (YouTube: http://youtu.be/LI3Feb1G3kU)
The Inside Line F1 Podcast is now available on various platforms and I would urge you to choose your platform to listen to the humour that we add to the otherwise serious and complex sport of Formula1.
If you are an Apple user, you can subscribe to the Inside Line F1 Podcast on the iTunes Podcast Store or via our RSS feed (for Android / Windows / Blackberry users).
The Inside Line Formula1 Podcast is produced by Rishi Kapoor and Kunal Shah. Follow us on Twitter and on our Soundcloud, MixCloud and YouTube channels.