Sebastian Vettel was serious about winning his 4th Drivers' Championship title in the 2013 Formula1 Season and he did exactly that. Now, he seems serious about winning his first ever Constructors' Championship title, will he succeed? And if you think I am out of mind to suggest that Sebastian Vettel can win the 2013 Constructors' Championship, read this: 'Could Sebastian Vettel Clinch The 2013 Constructors' Championship?'
After being two tenths down in his final qualifying lap, Vettel drove a near-perfect final sector to beat Mark Webber to pole position by a little over a tenth. His eighth pole of the season, 44th overall and yet another blinder of a lap to prove why he is the better Red Bull Racing driver. As for the team, yet another front row lock-out and hopefully Vettel makes a clean get-away and doesn't create the need for yet another 'multi-21' situation. And it would be noteworthy to mention that both Red Bulls are 7 tenths clear of the rest!
Much like last year, tyres took time to come up to optimum temperature, often causing traffic on-track as drivers attempted multiple laps to set a competitive time. And if this stays for the race, I wouldn't be surprised if drivers would actually lose a position or two after their pit-stop as their tyres went through the heat cycle. And on the note of pitstops, it does seem likely that we will see a one pit-stop strategy by most teams.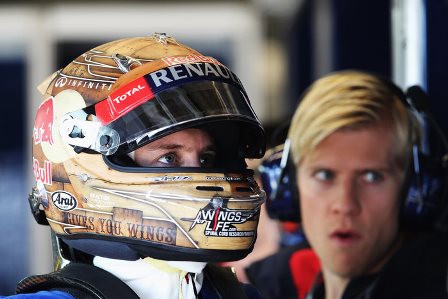 My favourite part of qualifying was that the track changed between FP3 and Qualifying and the drivers who could adapt quickly came out on top. Always good to see how Formula1 tests driver talent in different ways.
And the one talent (!) that we wish Maldonado didn't possess was arrogance! After his Q1 exit, the PDVSA funded driver 'hinted' that his car was 'sabotaged' by the WilliamsF1 team. Like really?
Contrary to conspiracy theorists, the Inside Line F1 Podcast debut last week wasn't why Nico Rosberg could only manage a P14 in the 2013 United States Grand Prix (Read: Rosberg Races On The Inside Line). Rishi tried but couldn't distract him one bit! And one wouldn't bet against him fighting his way closer to the top, but not to the top, of course. That spot in my view is reserved for a certain German! Which would then mean that he will set a new record in Formula1 for 'most consecutive wins in a single season'; after all he did get crowned as 'Lord Vitthal' at the 2013 Indian Grand Prix.
Sebastian Vettel
Mark Webber
Romain Grosjean
Nico Hulkenberg
Lewis Hamilton
Fernando Alonso
Sergio Perez
Heikki Kovalainen
Valtteri Bottas
Esteban Gutierrez
Daniel Ricciardo
Paul Di Resta
Jenson Button (Penalty)
Nico Rosberg
Felipe Massa
Jean Eric Vergne
Adrian Sutil
Pastor Maldonado
Giedo Van Der Garde
Jules Bianchi
Charles Pic (Penalty)
Max Chilton
Predictions for the race?
Your last chance to win official Mercedes AMG Petronas merchandise (courtesy: Puma). The contest closes on Monday, 18th November 2013. Here's the link.