The 2013 Korean Grand Prix saw Sebastian Vettel dominate the proceedings yet again. But of course, it was the 23rd and unexpected car on the track that beat him; eventually someone had to! Investigations are on to see if North Korea's Kim Jong-un ordered to send out the Fire Car before the FIA decided to release the Safety Car. I hope the correct results of the investigations see the light of day.
And are you also a Formula1 fan who is calling the current Vettel-Red Bull Racing era boring? Well, then you need to hear the latest episode of the Inside Line F1 Podcast to know exactly why it isn't. And what if I told you, every Formula1 team's dream is to bore you, would you believe me? Also, in this whole attempt to 'spice' up the sport, Pirelli is the one that is under maximum pressure. A case of damned if you do, damned if you don't!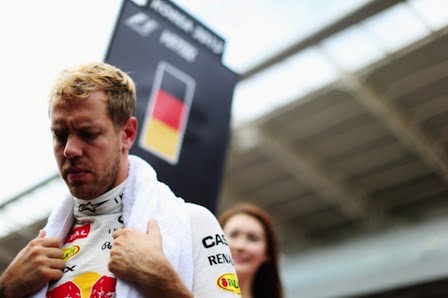 So here's what is in store for you in this week's episode: (YouTube: http://youtu.be/0Qc4rK-_I04)
Ferrari and Mercedes have struggled to beat Red Bull Racing, but they've successfully managed to steal Vettel's thunder for the second race in succession

Which then leads to us adding fuel to the speculation of Ross Brawn departing Mercedes and joining Mclaren. Is Brawn going back and reuniting with Honda?
'Driver of the Day' in Korea and then of course the 'Overtaking of the Day'
Will Nico Hulkenberg get a competitive cockpit for the 2014 Formula1 Season? Will it be alongside Grosjean in Lotus? Formula1 drivers will still be playing musical chairs in the weeks to come!
Impressed with Grosjean's drive in Korea, the team say that he is 'now' the driver they want him to be. Like really?
Mclaren's desperate measures to lose weight and gain speed! And aren't they no longer a force to reckon with?
There's a BIG chance that the models from FTV will be driving in the cockpits in the years to come…
Up next is classic Suzuka, who is betting against a Sebastian Vettel win? Predictions?
We do the math for the 2013 Drivers' Championship and Vettel's crowning is inevitable!

And if not in Suzuka, the 2013 Indian Grand Prix is where it could be, will you be there though?

The Inside Line F1 Podcast is now available on various platforms and I would urge you to choose your platform to listen to the humour that we add to the otherwise serious and complex sport of Formula1.
If you are an Apple user, you can subscribe to the Inside Line F1 Podcast on the iTunes Podcast Store or via our RSS feed (for Android/Windows /Blackberry users).
The Inside Line Formula1 Podcast is produced and hosted by Rishi Kapoor and Kunal Shah. Follow us on Twitter and on our Soundcloud,MixCloud and YouTube channels.