Sebastian Vettel won his 5th consecutive race of the 2013 Formula1 Season. Only 5 other Formula1 drivers have achieved this feat in the past and you wouldn't be surprised if I told you that one of them was Michael Schumacher. I wasn't surprised either that Vettel won today, but the good thing (for the sport and us fans) was that he didn't win in his usual fashion and was made to 'work' for victory. This was also his 4th consecutive win in Suzuka (Read: Helmets Off To Vettel). In the 2013 Korean Grand Prix, the Fire Car was the only one that could beat him! (Read: 23 Cars Raced In Korea). And, he's the only Formula1 driver ever to whom Apple have paid tribute to! (Read: iPhone5S-ebastian)
The bigger surprise for me today was the excitement and entertainment that Suzuka provided and in that order. Earlier this season, classic circuits like Spa (Read: Spa-ah) and Monza (Read: Yawn-za) did throw up some boring races, but Suzuka offered a good mix of wheel to wheel racing, strategy and penalties! But sadly, for fans who aren't too clued in the sport, for them, the same driver ended up winning yet again!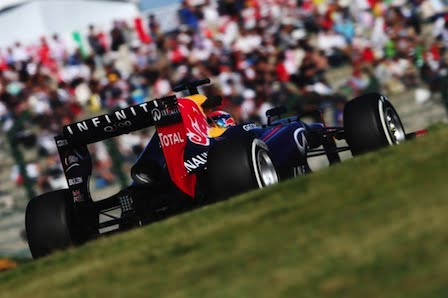 Vettel was challenged by his team-mate and Grosjean all the way to the chequered flag and expectedly so, post-race theories and rumours indicate that Webber, who was on pole after getting his pole dance right on Saturday, was made to switch to a three stop tyre strategy to get him out of Vettel's way. I wouldn't be surprised if Red Bull Racing actually did that, but then there's no way to prove the rumour either way; so the best is to celebrate Vettel's dominant drive yet again. (Read: Multi21, Team Orders And PR Talk)
The Bulls were made to work hard for their 1-2 after they started the race like lazy cows (I mean, unlike a Bull) and had Grosjean overtake them for the lead. The Frenchman should've won his first ever race in Formula1, if it weren't for Red Bull's strategic attack on Lotus (they attacked him with two different strategies) and for Lotus's lack of experience in winning races with Grosjean. However, it was a pleasant sight to see Grosjean go from being a first-lap nutcase to a first class drive in Suzuka. He was the only driver to finish with the Red Bulls; Alonso, who was 4th, finished 45 seconds behind followed by his Ferrari partner for the 2014 Formula1 Season, Kimi Raikkonen.
Raikkonen's form has dipped slightly post his Ferrari announcement and he is like every employee serving a notice period. Attends work, but doesn't give 100%! And is this why suddenly Grosjean is looking good in the Lotus? Only time will tell. (Read: Alonso, Raikkonen, Ferrari, 2014 And Beyond)
Sauber's Esteban Gutierrez became the first of the rookies of 2013 to score championship points after he finished 7th, 20 seconds behind his team-mate Hulkenberg. And after losing his probable Ferrari drive to Raikkonen, rumours about The Hulk moving to Lotus or even Sahara Force India intensified this weekend. (Read: When F1 Drivers Play Musical Chairs)
All in all, the Sunday morning/afternoon was well spent over some interesting Formula1 action and I hope that there's similar action in store as the Formula1 circus visits India for the 2013 Indian Grand Prix. But before I sign off, a BIG BOO to ESPNStar / Fox Sports Asia for not maintaining consistency in their Formula1 programming for India. After broadcasting qualifying on ESPN HD yesterday, the broadcaster decided to showcase the race only on Star Sports 2, a channel which isn't as widely available as their other broadcast channels (ESPN and Star Sports). Simple logic would indicate that if you're out to build your base of Formula1 viewers and want to attract 'attentive viewing', the least you could do is maintain consistency of your broadcast. But of course, the programming personnel there think otherwise!
And in light of ESPNStar / Fox Sports Asia's step-motherly treatment of Indian Formula1 fans, do tune back for my next post on how broadcasters should be worried about TATA's involvement in Formula1 as a 'content delivery network' provider. But before that, look out for the post-Japanese GP episode of the Inside Line F1 Podcast. And after you're done reading / hearing my next few posts, head to the 2013 Indian Grand Prix where you could be a part of history in the making by witnessing Vettel clinch his 4th consecutive Drivers' Championship!
Race Results:
Sebastian Vettel
Mark Webber
Romain Grosjean
Fernando Alonso
Kimi Raikkonen
Nico Hulkenberg
Esteban Gutierrez
Nico Rosberg
Jenson Button
Felipe Massa
Paul Di Resta
Jean Eric Vergne
Daniel Ricciardo
Adrian Sutil
Sergio Perez
Pastor Maldonado
Valtteri Bottas
Charles Pic
Max Chilton
Did Not Finish:
Lewis Hamilton
Giedo Van Der Garde
Jules Bianchi
If you're yet to purchase your tickets to the Indian Grand Prix, this guide could be of good help: Indian Grand Prix: Which Stand Is The Best