Phew! There's just so much to write and share about this historic achievement by an Indian that I don't know if this post will do entire justice to Jehan winning the 2013 British KF3 Championship! While Jehan was a known name in Indian karting and was trained by one of India's most well-known and successful domestic racers (Rayomand Banajee), his journey with Sahara Force India started in August 2011 after he won a Wild Card entry into the Sahara Force India Academy's 'One From A Billion Hunt' in Hyderabad.
Jehan was the program's youngest entrant and relied on his talent, courage and determination to beat the others who were elder and probably more experienced than him. After easing his way into the top 10 racers in India, he impressed the Academy judges (Robert Fernley, Anthony Hamilton and Nico Hulkenberg) who believed that he had the potential to succeed and picked him as one of the top 3 drivers of the nation-wide driver talent hunt. The other winners were Arjun Maini and Tarun Reddy.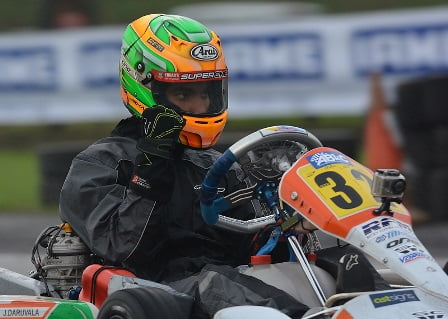 After a few days of winter testing for the three winners, the 2012 British KF3 Championship was chosen as a training ground for the youngsters with a target to learn, absorb and compete against the fiercest and most talented kart racers in the UK under the guidance of the legendary Terry Fullerton and technical support by Ricky Flynn Motorsport, one of the best names in European motorsport.
I attended a test session in Shenington followed by a visit to the Rowrah Kart Circuit in August / September 2012 to see the boys in action and follow the proceedings of the Academy. Between then and now, Jehan grew from strength to strength and won Round 7 of the 2012 British KF3 Championship (at Shenington) in dominant fashion followed by championship glory in the Asia-Pacific KF3 Championship held in Macau in October 2012.
Jehan, who enjoys excellent support from his family, friends and school, is one of the very few Indians who have successfully managed to break into the top flight of racing in Europe, a proven training ground for future Formula1 drivers. The 2013 program for the Sahara Force India Academy driver was to gain experience in the World Series of Karting (Euro & Masters) and aim for championship glory in the 2013 British KF3 Championship.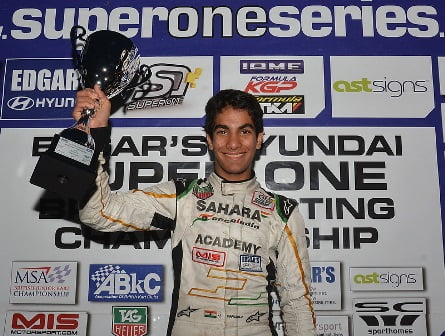 After nearly 20 months of training, hard work, dedication and sacrifice (he now lives alone in the UK to pursue his motorsport career), Jehan managed to beat his team-mate and Britain's Daniel Ticktum in the final round of the 2013 British KF3 Championship (again held at Shenington), making him one of the most successful karters in Indian Motorsport history.
And the final round wasn't without its own share of drama after a questionable grid penalty in the second heat meant that Jehan had to do all the hard work and come up with a classy performance to attain championship glory. Self belief has been one of Jehan's strengths and an aspect in which he has vastly progressed under the guidance of the Academy recommended sports psychologist Don Macpherson. (Read: Winning Matters In Formula1, Not Participation)
While Jehan will progress under the banner of Sahara Force India for the rest of the 2013 season and years to come, the bigger challenge would be to host the second edition of the 'One from a Billion Hunt' to fuel the system with more talented drivers like Jehan and fulfill Dr. Mallya's vision of finding and nurturing India's racing talent and be set on course for a racing career.
And on that note, a BIG THANK YOU (yet again) to all those (team members, agencies, FMSCI, track owners and marshals, engineers and mechanics, sponsors and team interns) who were involved in the first edition of the One from a Billion Hunt for being a part of history and having played a role in the Academy's success then and now. #FeelTheForce
The post-Japanese GP of the Inside Line F1 Podcast 'Does Cricket Feel The Same Way As F1 Did?' will be LIVE later today. Do tune in!