The 2013 Korean Grand Prix was at the risk of being labeled as 'boring' till a Pirelli tyre fitted on Sergio Perez's car decided to 'explode' and bring out the Safety Car period. The irony of this failure is that it occurred hours after Pirelli offered a cocky response to Alonso's criticism of their tyres. And in a PR disaster for the tyre manufacturer, Webber too joined the tirade post-race.
It is a bit funny to me (in a disturbing way) that we rely a little too much on Pirelli; isn't the pressure on them too hard? Get the tyres right and the races are plain boring, if they get the tyres wrong, explosions happen and suddenly the action is 'spiced' up. The other boring factor of course is Sebastian Vettel, who completed a hat-trick of wins in Korea and DID NOT get boo-ed for a change (Read here to know why). Helmets off to Vettel, yet again. And this is exactly why Apple has chosen Sebastian as their 'brand ambassador' for the iPhone5S. Read all about it here: iPhone5S-ebastian
In my pre-race post, I wrote about how Vettel has gone about breaking records and weakening statistics in Formula1. Today, he became the only driver to win the Korean Grand Prix from pole position. Given how much he's won, I think I have lost count on his overall wins tally and the number of wins in the 2013 Formula1 Season; though I do know he's won a third of all races contested. And if that's not enough, in the last 4 GPs, Vettel's led nearly 95% of the laps.
In comparison, his competitors have looked lacklustre. Ferrari, Lotus and Mercedes seem to have fallen back and I think mathematical possibilities of others being able to win the 2013 crown will be quashed by the time the circus reaches India. This also means that Vettel could be crowned the 2013 Drivers' World Champion by the 2013 Indian Grand Prix. Isn't that a BIG motivation to go BUY your ticket and watch the race LIVE? (Read: Best Tickets At The Indian Grand Prix)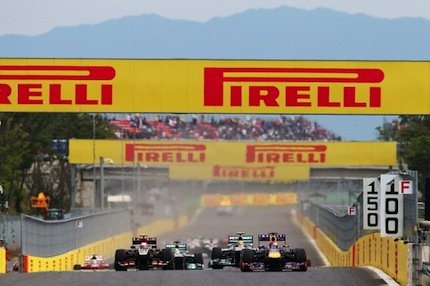 And if I could do a TV coverage comparison, Vettel's dominant drives are probably hurting Red Bull Racing's share of voice on the official broadcast! The race is almost only for P2 and lower, which today was made interesting by the guys at Lotus. Raikkonen pulled off an amazing move on Grosjean to claim P2.
My choice for 'Driver of the Day' would be Nico Hulkenberg, who displayed the fine art of defensive driving after he managed to hold back Fernando Alonso (in the first stint) and Lewis Hamilton (in the second stint), both, who I must add, had their DRS wing enabled. Funny that a talent like him is still unsure of his racing seat for the 2014 Formula1 Season. This begs me to ask, are the Team Principals of the top Formula1 teams watching the same race broadcast as we do?
Pastor Maldonado is the other driver who comes to my mind while I type this. After a brilliant opening lap where he jumped some 9 places and after a great scrap with Gutierrez, Massa and Perez, he could only manage a P13! Was he not trained enough in the junior formulae and told that points are won for finishing in the top 10 and not for being involved in scraps which make for good television? Do you think he will (or should be) retained by Williams in 2014? (Read: F1 Drivers To Play Musical Chairs)
Although the Safety Car periods were important, I wish they were a little shorter, because that would've allowed the split between the two and three stoppers, which could've further shuffled up the finishing order. And of course a split of strategies would've made the race a bit more interesting, which is crucial in the current era where we rely on rain, Safety Car period or Pirelli to add excitement to the sport. And this dependence isn't going to change anytime to soon!
As for Championship positions, Vettel strengthened his lead further, Hulkenberg's finish was Sauber's best for the season; who are now tied with Toro Rosso in 7th position, Hulkenberg shot past countryman Adrian Sutil in the Drivers' Championship standings and Raikkonen leaped past Hamilton into P3 too.
The highlights of the race for me would be five cars going abreast into turn 3, followed by the deployment of the Fire Car before the Safety Car and then again, Hulkenberg's stupendous driving! Kudos!
 Race Results:
Sebastian Vettel
Kimi Raikkonen
Romain Grosjean
Nico Hulkenberg
Lewis Hamilton
Fernando Alonso
Nico Rosberg
Jenson Button
Felipe Massa
Sergio Perez
Esteban Gutierrez
Valtteri Bottas
Pastor Maldonado
Charles Pic
Giedo Van Der Garde
Jules Bianchi
Max Chilton
Jean Eric Vergne
Daniel Ricciardo
Adrian Sutil
Did Not Finish:
 The post-Korean Grand Prix episode of the Inside Line F1 Podcast should be published on Tuesday, tune in!