If the 2013 Korean Grand Prix Qualifying is anything to go by, the GP this weekend will be a stark contrast to the 2013 Singapore Grand Prix that concluded only a fortnight ago. And well, I would say expectedly so!
From packed stands and an electric atmosphere where the entire city celebrated the arrival of Formula1, the circus has landed into Yeongam where no really seems interested in the sport barring the Formula1 fraternity. And given that circuit ticket sales don't affect the revenues of Formula One Management (FOM), I doubt if Mr. Ecclestone is a worried man.
Away from the business of Formula1, it was business as usual for Sebastian Vettel and Red Bull Racing as they clinched yet another pole position. This was Vettel's 42nd career pole, which propels him to third in the 'all-time list of pole greats', and his 6th of the 2013 Formula1 Season. And as much as he rejoiced his pole position (although he seemed absolutely bored on TV) no driver has ever won from pole here in Korea; probably the most interesting statistic this weekend? But then again, Vettel is known to break records and weaken statistics! (Read: Helmets Off To Vettel and iPhone5S-ebastian)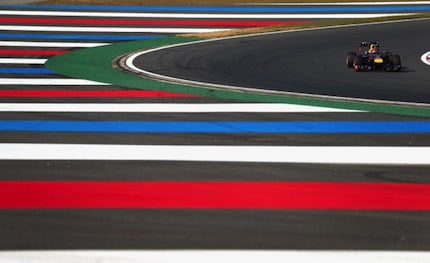 I expected Hamilton to clinch pole and hand over the race winner baton to Vettel, but the Brit could only manage P2. Data from the Free Practice sessions indicate that Mercedes have good race pace, but I wouldn't be surprised if Vettel will claim yet another pole-to-flag win and the others will fight for P2 and lower. In which case, Rosberg and Alonso are big threats to Hamilton with Raikkonen and Webber with an outside chance.
First it was the Pirellis and now Vettel who seems to be 'boring' everyone in Formula1, but that again is the irony of the sport. Formula1 is about chasing precision and those crucial tenths and thousandths and when a driver and team do exactly that and start dominating and winning everything, 'boring' (or boo-ing in Vettel's case) is what they get instead of an applaud. And 'entertainment' is what is missed. Formula1 fans are a spoilt lot, I tell you. (Read: What Formula1 Can Learn From Rush)
Just to get levels of boredom into perspective, the post-qualifying press conference ended with the journalist asking only one question to our top three qualifiers! And my post-session Twitter feed has less than 100 tweets to read, which is about three times less from a 'normal' Grand Prix!
As for Race Day, I see Vettel stomping his way to victory, although I would love to see a few drivers put up a fight against him. The best part of his victory could well be that there will be no post-race boos; after all, fans are non-existent in Yeongam. And should they land up on Race Day and still boo, the post-race title will be 'From Yeongam to Boo-ngam'.
Qualifying Results:
Sebastian Vettel
Lewis Hamilton
Mark Webber (10 place grid penalty, so will start P13)
Romain Grosjean
Nico Rosberg
Fernando Alonso (Read: Ferrari, Alonso, Raikkonen, 2014 And Beyond)
Felipe Massa
Nico Hulkenberg (Impressive yet again, but will this help him get a better seat for the 2014 Formula1 Season?) (Read: F1 Drivers Play Musical Chairs)
Esteban Gutierrez
Kimi Raikkonen (err! He's making Grosjean look better than he actually is!)
Sergio Perez
Jenson Button
Daniel Ricciardo (Read: Hips Don't Lie For Ricciardo)
Adrian Sutil
Paul Di Resta
Jean Eric Vergne
Valtteri Bottas
Pastor Maldonado
Charles Pic
Giedo Van Der Garde
Jules Bianchi
Max Chilton
 Your predictions for Race Day?
And hear the pre-Korean Grand Prix episode of the Inside Line F1 Podcast: 'Korea To Be Vettel-ed'.