'It was inevitable', was my first thought when Sebastian Vettel claimed the chequered flag at the 2013 United States Grand Prix, his either consecutive race win for the 2013 Formula1 Season. The 'Baby Schumi' beating Michael Schumacher's record of seven consecutive wins in 2004. I wonder if his win in the United States of America, a country where he also drove his debut Formula1 race (2007) in, will help boost the sales of Apple's iPhone5S-ebastian! And of course, Vettel is inching closer to winning his first Constructors' Championship as well. (Read: No Schumacher, Only Vettel)
Romain Grosjean, who we fondly refer to as 'Crash'jean on the Inside Line F1 Podcast, managed to beat the other Red Bull Racing car of Webber to P2. He also has the distinction of being the second highest points scorer in the last five GPs but is surprisingly only 7th in the Drivers' Championship. Webber, who had yet another poor start, finished in P3, followed by Hamilton, Alonso and Hulkenberg. And Webber's pit-stop was clocked at 2.3 seconds, probably the fastest of the season!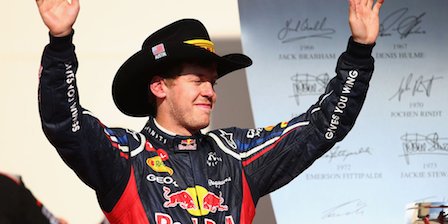 Experience played a key part towards the end as most teams and drivers tried their best to make their one-stop strategy work; Alonso and Button provided some late race excitement in an otherwise boring race, which also saw Lord Vitthal (aka Sebastian Vettel) offer donuts as prasadam to fans for the third time in succession. His post-race radio message to the team reflected his state of mind to be Zen like! And he's only in his mid-20s!
And on radio messages, it seems that Lewis Hamilton has taken over the mantle from Kimi Raikkonen to deliver funny (but stern) radio messages to his team!
Also, congratulations to Valtteri Bottas for scoring his first ever Formula1 championship point! After the Money-aldo bashing, some much needed encouragement for the WilliamsF1 team.
Sebastian Vettel
Romain Grosjean
Mark Webber
Lewis Hamilton
Fernando Alonso
Nico Hulkenberg
Sergio Perez
Valtteri Bottas
Nico Rosberg
Jenson Button
Daniel Ricciardo
Jean Eric Vergne
Felipe Massa
Esteban Guttierez
Heikki Kovalainen
Paul Di Resta
Pastor Maldonado
Jules Bianchi
Giedo Van Der Garde
Charles Pic
Max Chilton
Did Not Finish:
It was only after I typed the full race result did I realise that Jules Bianchi not only beat the Caterhams, but also finished nearly a minute ahead of Chilton. It's a shame that he couldn't manage a more competitive team than Marussia for the 2014 Formula1 Season.
Up on Tuesday should be the post-Austin episode of the Inside Line F1 Podcast. For those who missed Nico Rosberg's debut on our Formula1 Podcast, can catch it here: 'Nico Rosberg Debuts On The Inside Line F1 Podcast'.
And while Kimi Raikkonen is nursing his bad back before he resumes action as a Ferrari driver, here's a pull-out from my archives on Ferrari, Fernando Alonso, Kimi Raikkonen, 2014 And Beyond.