It was expected to be a battle between the Mercedes drivers with most Formula1 fans predicting the phenomenally talented Hamilton scoring pole position over the always under-rated Rosberg after striking super form and luck (notice the and!) last week in the 2014 Malaysian Grand Prix.
However, it was Rosberg who got better of the two in the qualifying session of the third race of the 2014 Formula1 Season. The Drivers' Championship leader was almost three tenths up on his team-mate and nearly a second ahead of the second Red Bull Racing car of Ricciardo in third. What I liked about the Mercedes battle was that Hamilton felt the need to push that bit more which saw him lock up and ruin his final qualifying attempt. And for all the Hamilton fans out there, please don't get started by issuing yet another 'what if' scenario! Kudos to Rosberg!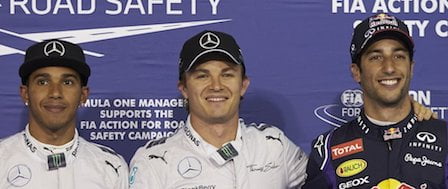 The biggest surprise (and a pleasant one at that!) of the session was to see Sahara Force India's Sergio Perez strike much needed form and qualify 5th on the grid, a tenth behind WilliamsF1 driver Valtteri Bottas and less than a few tenths ahead of former World Champions Raikkonen and Button.
As expected, the lap times were closer (even more so in Q2) except of course for the Ferrari of Alonso who surprisingly couldn't manage more than P10; beaten for the first time by Raikkonen. And the list of disappointments would be a little longer after Vettel could manage only a P11 and Hulkenberg, P12. Ricciardo's ten place grid penalty from Bahrain for an unsafe release would be applicable, dropping him down to P13 at the start. Issuance of penalty to the driver is debatable, but is Formula1's way to ensure that teams don't cross the thin line of safety by chasing 2 something second pit-stop and have tyres flying down the pit-lane. Wouldn't it just be more sensible to penalise the team by a deduction of Constructor Championship points or impose a fine penalty? Poor Ricciardo! The opening three rounds of the season have seen external forces impact his final standings!
While the pecking order is difficult to predict, it is safe to say that the Ferrari, Mclaren, Williams and Sahara Force India are in the fight to be the second best after Mercedes. I would expect a breakaway from either or all the teams and this would depend heavily on in-season car development. And the championship battles would depend on how much of a gap Mercedes (and their drivers) are able to pull away while their advantage remains this large!
And this is also where I would expect Mercedes to possibly side with either one of their drivers (Hamilton?) to give him a sufficient gap before the Bulls come chasing. An interesting few races up ahead of us.
In tomorrow's race, I expect the driver who gets off the line cleanest and leads at the end of lap 1 to win the race. My gut feeling is that it will be Rosberg over Hamilton, but will be interesting to see how the opening few laps pan out. The Red Bulls and Ferrari start outside of the top 5 and Bottas / Perez do, which allows me to believe that we could have a non-Ferrari / Mclaren and Red Bull podium! But of course, I would hope that it would be Checo!
WilliamsF1 should ideally be eyeing both cars in the top 5 given their consistent race pace and after finally finishing a Saturday in positions they truly deserve. The cooler temperatures are causing balance issues for most drivers and it'll be interesting to see how they cope over the entire race distance. And as always, we will see two or three stops implemented during the race. All in all, we seem to be set for a cracker of a GP under the illuminated circuit of Sakhir.
And for those praising the sport's green efforts by reduction of fuel consumption, hybrid energy and the blah, surprising that little voice has been raised against the increased energy consumption in hosting another night race!
Qualifying results for the 2014 Bahrain Grand Prix:
Nico Rosberg – Mercedes
Lewis Hamilton – Mercedes
Daniel Ricciardo – Red Bull Racing (10 place grid penalty applicable)
Valtteri Bottas – WilliamsF1
Sergio Perez – Sahara Force India
Kimi Raikkonen – Ferrari
Jenson Button – Mclaren
Felipe Massa – Ferrari
Kevin Magnussen – Mclaren
Fernando Alonso – Ferrari
Sebastian Vettel – Red Bull Racing
Nico Hulkenberg – Sahara Force India
Daniil Kvyat – Toro Rosso
Jean Eric Vergne – Toro Rosso
Esteban Gutierrez – Sauber
Romain Grosjean – Lotus
Pastor Maldonado – Lotus
Adrian Sutil – Sauber
Kamui Kobayashi – Caterham
Jules Bianchi – Marussia
Marcus Ericsson – Caterham
Max Chilton – Marussia
Hear the pre-Bahrain Grand Prix episode of the Inside Line F1 Podcast 'What's The Pecking Order?'