So Ferrari has elevated Marco Mattiacci to the Team Principal position after Domenicali stepped down. Given the state of the F14T in the first three races of the 2014 Formula1 Season, I think that Super Mario is what the Italian team needs. (Read: Ferrari, Alonso, Raikkonen, 2014 And Beyond)
Apart from that, the guys who signed off the new regulations for Formula1 have been extra vocal (more torque, less talk!) about their disappointment, discontentment and desire to bring into effect yet another set of changes to 'correct' the formula of Formula1. Too late! Formula1 needs to be more preemptive and active than reactive in nature. (Read: Let Us Save Formula1)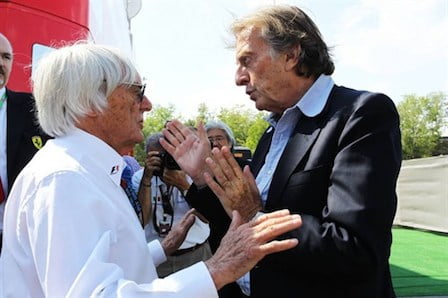 Do I think that the sport needs changes? Yes, but not mid-season. While I am fed up of the constant rule changes, I would surely like the noses to undergo some cosmetic changes, possibly simplify the entire fuel saving / fuel flow regulation and while doing that, if there's a chance, enhance the sound of the engine. (Read: Engine No-ise)
But then again, mid-season rule changes aren't new to the sport. They have been successfully used in the past to slow down the fastest team. First it was for Ferrari, then Red Bull Racing and now Mercedes.
In the latest episode of the Inside Line F1 Podcast, we wonder if this season will be a Hamilton vs. Rosberg battle and if at all, who and by when could someone catch up. Also, is it time to #FeelTheForce yet again in Shanghai? (Read: 2014 Bahrain GP: #FeelTheForce)
Here's what's in store for you in our Formula1 Podcast:
We missed our post 2014 Bahrain Grand Prix podcast. Sincere apologies!
Karting and its relevance to Formula1
Second in the Constructors' Championship, will Sahara Force India maintain form in Shanghai? And again, 'What's The Pecking Order'?
Ferrari, Montezemolo, Domenicali, Mattiacci, Alonso, Raikkonen – Is Ferrari too big a ship to sort out its mess? Will they bounce back this season?
Strange that barring Red Bull Racing, every other top team has made a change in its trackside management roles (Whitmarsh, Boullier, Brawn and now Domenicali). Is it getting too hot at the front?
Will we see an all American F1 Team led by Tony Haas? (Read: Your Chance To Own A Formula1 Team)
But if the other Tony (Fernandes) has his way, we still may not have 13 teams on the grid in the 2015 Formula1 Season
And finally, mid-season rule changes. Are they necessary? If the racing spectacle that we saw in Bahrain is what lies in store for us, is the engine noise the only change that fans are seeking?
Also, a layman's two bits on increasing the engine notes!
Predictions for the 2014 Chinese Grand Prix? Yes, we mean for positions 3rd onwards.
And in the next fortnight (between China and Spain), we will be introducing a new segment on the Inside Line F1 Podcast, something that both Rishi and I are extremely excited about. Stay tuned!
The Inside Line F1 Podcast is now available on various platforms and I would urge you to choose your platform to listen to the humour that we add to the otherwise serious and complex sport of Formula1. And while our podcast frequency is weekly, come 'like' the Inside Line F1 Podcast page on Facebook for far frequent updates on the humour in the world of Formula1.
If you are an Apple user, you can subscribe to the Inside Line F1 Podcast on the iTunes Podcast Store or via our RSS feed (for Android/Windows/Blackberry users).
The Inside Line Formula1 Podcast is produced and hosted by Rishi Kapoor and Kunal Shah. Follow us on Twitter and on our Soundcloud, Spreaker, MixCloud and YouTube channels.