A week into the Formula1 off-season and little has changed. Barring Ross Brawn's confirmed exit from Mercedes and Nico Hulkenberg's confirmation at Sahara Force India, the rest of the pieces of the jigsaw remain a puzzle!
Also the move to the 1.6 litre V6s remains the most discussed topic off-season as the sport prepares to undergo a revolutionary winter. And in the midst of this, Motorsport fans have had to contend with the sounds (or not) of the Formula E engine!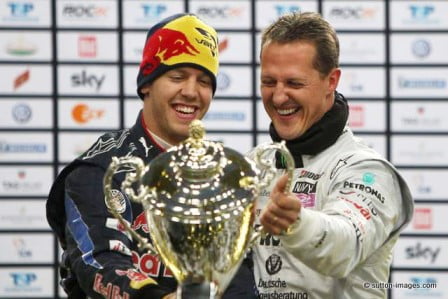 For those tuning in a little late in the week, Mahindra Racing announced their entry into the Formula E Championship (to debut in 2014) and created some extra buzz for Indian Motorsport and an opportunity for Indian drivers to drive in a top class global racing series. But for now, it is back to Formula1, back to the Inside Line F1 Podcast and here's what is in store for you in our latest Formula1 Podcast:
Ross Brawn to unite with Honda or Ferrari? Where do you think he's headed? (Read: Ross Brawn vs. Adrian Newey)
Massa – Smedley to re-unite at Williams for 2014?
With Hulkenberg now to Sahara Force India, who will partner Grosjean at Lotus? And are these indications that the Quantum deal has fallen apart and that Maldonado's millions will find their spot there? (Read: F1 Drivers To Play Musical Chairs)
This week's special: like Football, Cricket and various other sports, Formula1 contemplates issuing permanent number to drivers from the 2014 Formula1 Season. Hear our views!
Of course before the drivers end up fighting for it, we tell you which driver should get which number and why.
And we also tell you why Pastor Maldonado wouldn't get a number!
Vettel's concern for 2014 is the loss of the 'thrill' factor. We tell how we'd like our engines. (Read: Gracias V8, Hola Turbo)
Formula E, we give you a low down of the championship and the Mahindra Racing connect; is this really the 'future' of Motorsport? We share what a few of our listeners had to say about the 'engine note'.
The Inside Line F1 Podcast is now available on various platforms and I would urge you to choose your platform to listen to the humour that we add to the otherwise serious and complex sport of Formula1.
If you are an Apple user, you can subscribe to the Inside Line F1 Podcast on the iTunes Podcast Store or via our RSS feed (for Android/Windows /Blackberry users).
The Inside Line Formula1 Podcast is produced and hosted by Rishi Kapoor and Kunal Shah. Follow us on Twitter and on our Soundcloud, Spreaker, MixCloud and YouTube channels.