Two races of the 2014 Formula1 Season have concluded; the third one is upon us this weekend. But, it is almost impossible to predict the pecking order barring the expected dominance of Mercedes. In this week's episode of the Inside Line F1 Podcast, Rishi and I try adding our two bits to the remaining slots on the grid, barring the last four, of course.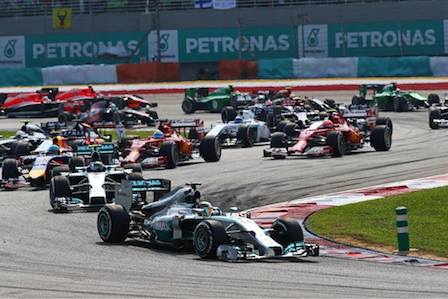 But before we bring notice to our latest episode and its contents, a BIG thank you to Ritesh Tripathy who is a music producer, an avid Formula1 fan and one of our very first listeners, for the amazing opening tune of our Formula1 Podcast. We hope you love it as much as we do!
Here's what's in store in our latest episode:
Fantastic drive by Lewis Hamilton in the 2014 Malaysian Grand Prix. We are usually biased towards Britney, but this time the rapper did rap his way and how! Applaud!
We dissect Hamilton's comments post the 2014 Australian Grand Prix on drivers having to work harder than ever before. Yes, we do get a little harsh this time…
And yes, engine no-ise, we are probably used to them by now. Or is it that we don't care much already? On-board microphones to be the next big automobile invention?
Red Bull Racing has embarrassed most other top teams and we tell you why.
Are team orders purposely issued (and disobeyed) in Malaysia to make the race interesting?
Alonso, Raikkonen and of course, Ricciardo, what on earth…
The new penalty points system is effective; very beneficial of the drivers, but confusing for the fans!
And finally, there's little reference for us to pick the pecking order for Bahrain. Yes, Mercedes up ahead, but which team will follow them to the chequered flag 30+ seconds later?
And the 2014 Bahrain Grand Prix should be closer given it was the venue of the pre-season tests. But with the timing of the sessions changed from day to night, will pre-season testing data be as effective?
The Inside Line F1 Podcast is now available on various platforms and I would urge you to choose your platform to listen to the humour that we add to the otherwise serious and complex sport of Formula1. And while our podcast frequency is weekly, come 'like' the Inside Line F1 Podcast page on Facebook for far frequent updates on the humour in the world of Formula1.
If you are an Apple user, you can subscribe to the Inside Line F1 Podcast on the iTunes Podcast Store or via our RSS feed (for Android/Windows/Blackberry users).
The Inside Line Formula1 Podcast is produced and hosted by Rishi Kapoor and Kunal Shah. Follow us on Twitter and on our Soundcloud, Spreaker, MixCloud and YouTube channels.