So it seems that Lewis Hamilton has finally dealt with the 'Nico and Nico-le' in his life post the controversy at the 2014 Monaco Grand Prix (Read: Did Rosberg Do A Schumacher?). I think I have bashed Hamilton's off-track attitude a little too much in the last few months, on my Formula1 blog and the Formula1 podcast! And now I think he's going to bash the rest fair and square on-track in the 2014 Canadian Grand Prix. If he does so, he will be the only driver on the current grid to have won in Montreal more than once.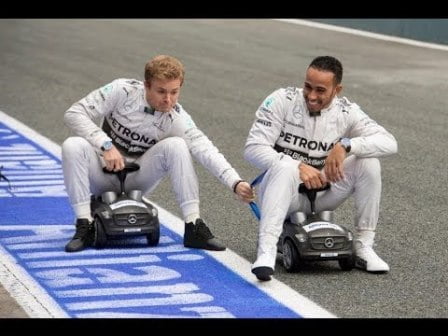 However, will Monaco ever be forgotten? The 2014 Drivers' Championship will be closely contested and could go down to the wire and IF it is eventually decided by a few points only, then possibly Rosberg's controversial (or not!) escape may not be. But does this mean that a qualifying rule change should be discussed? Lewis was wronged, it cost him a legitimate final attempt at pole position; can and should the FIA do anything about it? (Read: Against Mid-Season Rule Changes)
And here's what else is in store for you in this week's episode of the Inside Line F1 Podcast:
'Still Friends #NoProblem', should we take Hamilton's tweet at face value, or is this yet another PR talk from the Mercedes machinery? (Read: Team Orders And PR Talk)
Would Ross Brawn have handled the Rosberg vs. Hamilton issue better? (Read: From Friends To Colleagues)
Whether Rosberg's act was deliberate or not, Lewis was wronged; can a ruling be put in place to avoid such a sporting loss in the future?
Do we miss the previous qualifying format? 1 hour, 12 laps for everyone? What's your view?
Marquez is the Vettel of the MotoGP! And he wants to 'try' Formula1, which team will he choose? Red Bull Racing or Mclaren-Honda?
Which Renault powered driver will be the first to run out of engines in the 2014 Formula1 Season?
Will Red Bull Racing actually 'bill' Renault for loss of revenue? Now that'll be a first! (Read: Mercedes is the new Red Bull)
'Wall of Champions' will stop being called that if Pastor Maldonado is in form.
Predictions?
The Inside Line F1 Podcast is now available on various platforms and I would urge you to choose your platform to listen to the humour that we add to the otherwise serious and complex sport of Formula1. And while our podcast frequency is weekly, come 'like' the Inside Line F1 Podcast page on Facebook for far frequent updates on the humour in the world of Formula1.
If you are an Apple user, you can subscribe to the Inside Line F1 Podcast on the iTunes Podcast Store or via our RSS feed (for Android/Windows/Blackberry users).
The Inside Line Formula1 Podcast is produced and hosted by Rishi Kapoor and Kunal Shah. Follow us on Twitter and on our Soundcloud, Spreaker, MixCloud and YouTube channels.