After months of waiting for the off-season to end and speculating results (or the lack of them) from the pre-season tests, curtains will raise on the 2014 Formula1 Season this weekend and the picture is expected to only get clearer as the opening round concludes.
Although, I don't expect the picture to be a blockbuster, nor do I expect to identify the heroes or the sidekicks of the 2014 Formula1 Season, but I think I can guess who the villains really are. I have been extremely vocal against the new regulatory changes (Read: Fed Up Of The Formula1 Rule Changes) much to the disappointment of a few readers, but I think I just have a different vision for the sport of Formula1; but that's for another day! (Read: Racing First, Engineering Later)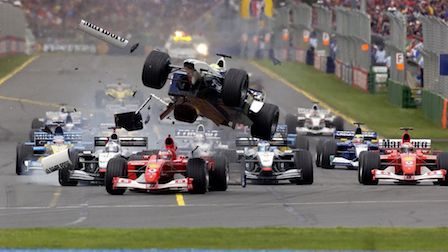 In this week's episode of the Inside Line F1 Podcast, Rishi and I talk about the upcoming season, and for a change, we talk about what we are looking forward to as the season unfolds. Here's what's in store in our latest Formula1 Podcast:
Lots to look forward to this weekend. The ERS, power units, team-mate rivalries, Pirelli tyres and more
A possible Massa-Williams podium? What about Sahara Force India?
And the best could well be seeing Red Bull Racing and Vettel fight back! If this does happen, it'll be their first defence so to say! (Read: Red Bull Needs Wings)
Magnetti Marelli reckon that all cars could retire in the 2014 Australian Grand Prix.
A lesser known Mika spills the beans on Ferrari's sand-bagging efforts.
Hamilton's efforts to draw more fans to watch the sport this year. (Read: Will Formula1 Survive Without Bernie?)
And Ron's efforts to bring back Hamilton to Woking and a desperate attempt to attract a title sponsor for Mclaren.
Pirelli could add to the unpredictability too! (Read: Pirelli Shouldn't Have Renewed F1 Contract For 2014)
Azerbaijan, NO! India, YES! Could we get more direct? (Read: How To Save The Indian GP)
Best memories of Albert Park
And, predictions!
We've said 'Let Us Save Formula1' in unison in the recent past, this weekend will prove if we jumped the gun or did our gut come true! Nevertheless, as they say in sport, may the best man win! And more than ever before, I really hope he does…!
And of course, while Formula1 is back, we wish for one of its greatest ambassadors Michael Schumacher to be back soon too, 'Come Back Michael'.
The Inside Line F1 Podcast is now available on various platforms and I would urge you to choose your platform to listen to the humour that we add to the otherwise serious and complex sport of Formula1. And while our podcast frequency is weekly, come 'like' the Inside Line F1 Podcast page on Facebook for far frequent updates on the humour in the world of Formula1.
If you are an Apple user, you can subscribe to the Inside Line F1 Podcast on the iTunes Podcast Store or via our RSS feed (for Android/Windows/Blackberry users).
The Inside Line Formula1 Podcast is produced and hosted by Rishi Kapoor and Kunal Shah. Follow us on Twitter and on our Soundcloud, Spreaker, MixCloud and YouTube channels.