Engine sounds and ugly noses were quickly forgotten (not forgiven just yet!) when Formula1 put together a spectacular and suspense thriller of a qualifying session for the 2014 Australian Grand Prix. Yes, rain was another contributing factor and threw up interesting tyre choices in Q3 and tested the 'rustiness' of the men on the pit-wall; and some of them (the top ones at that!) did show some rust when the decision to switch from extremes to inters was to be made.
It was this very spectacle that I questioned in the off and pre-season and I am glad that the season has gotten off to a better-than-expected start. And no, I don't mean that if you're a Kimi Raikkonen or a Sebastian Vettel (are there any?) fan.
As expected, Lewis Hamilton and Mercedes claimed their first pole of the season and under the new 'formula' of Formula1. I expect Rosberg to be faster in the race, so look out for some fireworks (no, not because Rosberg's front wing will collapse tomorrow!).
While I have heavily criticised a majority of the rule changes for 2014 (Read: Fed Up Of Rule Changes In Formula1), I think the decision to give all drivers an extra set of tyres for Q3 is probably the most sensible one. For a change, we saw racing > strategy in qualifying, more like back to basics!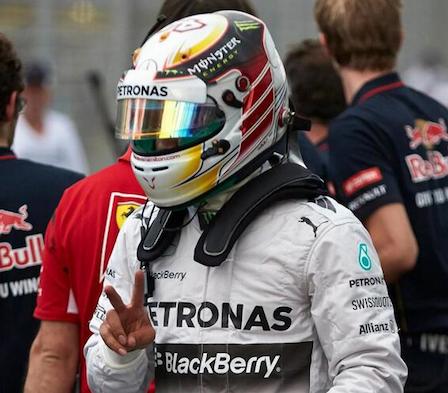 But Daniil Kvyat, Kevin Magnussen and Daniel Ricciardo (my stars of qualifying) did add a more than few fans after noteworthy performances in all parts of qualifying where they not only managed a top 10 start, but also out-qualified their World Champion team-mates easily in the tricky conditions. Although, I would suspect that Kvyat lost a few fans while they struggled to type his full name and search him on Google, Facebook or Twitter! And a thank you to Ricciardo for not ruining everyone's (me included!) 'pole position' predictions in the various fantasy league games.
The roaring engine sounds were missed, but I think they could well be a blessing in disguise in the long-run (No! I can't believe I said that!). For a change, I could hear the tyres screeching (a la karting) and when Vettel couldn't manage more than a P13, I think the crowds in the grandstands cheered at a decibel louder than a few of the current V6 + ERS power units fired up together.
(Read: Gracias V8, Hola V6 Turbo)
Alonso managed a mediocre P5, but given Ferrari's consistent race pace (again a speculation from pre-season tests), there's a chance we could see the twin World Champ on the podium tomorrow and not to mention his cheeky driving quotient. The disappointment of the day would be the two WilliamsF1 drivers (Massa and Bottas) who would manage a lowly P9 and P10. I guess it was the rain that cost them higher grid positions.
The Lotus F1 Team took their sponsorship activation of 'Clear' very seriously when they almost steered clear of participating in the qualifying session. Grosjean's moans were evident of his displeasure with their 2014 challenger whereas Maldonado's session was a 'walk in the park', literally.
While the new regulations have tested engineers the most, the qualifying session with mixed weather also confirmed in a few ways that the drivers would need to 'work' hard to earn their living! The lack of grip, overdose of torque and ban on traction control will make for interesting action on track with excessive wheel spin being a boon for spectators and fans and a bane for drivers and Pirelli. Some good shots of Massa trying to 'catch' his car in the wet and of course Vettel kissing the barriers apart from the usual spins by a few!
On Race Day, reliability will be key apart from the fuel-saving that drivers and teams have been talking about. I would expect Mercedes and their customer teams to have it relatively easier than their Renault counterparts. As for Ferrari and Red Bull Racing, it would be interesting to see how they manage their team rivalries and tyre strategies.
Results from the 2014 Australian Grand Prix Qualifying:
Lewis Hamilton – Mercedes
Daniel Ricciardo – Red Bull Racing
Nico Rosberg – Mercedes
Kevin Magnussen – Mclaren
Fernando Alonso – Ferrari
Jean Eric Vergne – Toro Rosso
Nico Hulkenberg – Sahara Force India
Daniil Kvyat – Toro Rosso
Felipe Massa – WilliamsF1
Valtteri Bottas – WilliamsF1
Jenson Button – Mclaren
Kimi Raikkonen – Ferrari
Sebastian Vettel – Red Bull Racing
Adrian Sutil – Sauber
Kamui Kobayashi – Caterham
Sergio Perez – Sahara Force India
Max Chilton – Marussia
Jules Bianchi – Marussia
Esteban Gutierrez – Sauber
Marcus Ericsson – Caterham
Romain Grosjean – Lotus
Pastor Maldonado – Lotus
With the 2014 Formula1 Season now underway, here are a few relevant episodes of the Inside Line F1 Podcast for your listening:
The Inside Line F1 Podcast is now available on various platforms and I would urge you to choose your platform to listen to the humour that we add to the otherwise serious and complex sport of Formula1. And while our podcast frequency is weekly, come 'like' the Inside Line F1 Podcast page on Facebook for far frequent updates on the humour in the world of Formula1.
If you are an Apple user, you can subscribe to the Inside Line F1 Podcast on the iTunes Podcast Store or via our RSS feed (for Android/Windows/Blackberry users).
The Inside Line Formula1 Podcast is produced and hosted by Rishi Kapoor and Kunal Shah. Follow us on Twitter and on our Soundcloud, Spreaker, MixCloud and YouTube channels.