Lewis Hamilton won the 2014 Malaysian Grand Prix in expected style. Pole, fastest lap of the race, victory, what in motorsport terms could be called as 'stringing a weekend together'! Although it is being debated if he scored the 'Grand Chelem' (pole, fastest lap of the race, victory AND having led every single lap!)! By claiming his first win of the season, Hamilton has now won atleast one race in every season competed.
A Mercedes victory was expected, like it was at the 2014 Australian Grand Prix. Infact, after seeing their dominance in the FP sessions, most of us would've predicted a 1-2 finish for the Brackley based team with extreme difficulty in picking which driver would beat the other. However, Hamilton got the better of Rosberg on this occasion and in both the GPs of the 2014 Formula1 Season, one got the feeling that victories were scored with still some race pace in reserve.
Mercedes will be aiming to capitalise on their early season form and extend their lead in both the World Championships. The biggest learning from Sepang was that Red Bull Racing have recovered, are playing catch up and will catch up sooner than what most people would have expected after their pre-season debacles. Given that their pre-season running was almost negligible in comparison to the other top teams, seeing them run this close to the top pace could actually be embarrassing for the others! (Read: Red Bull Needs Wings)
To me, the Red Bull Racing vs. Mercedes battle is possibly the most interesting story of the season yet. Ferrari are still puzzled with their sporadic show of pace (or the lack of it) and Mclaren are still trying to find their sweet spot.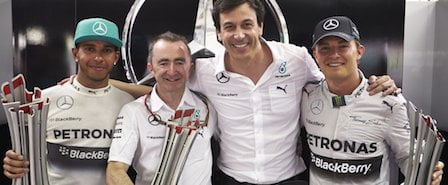 The other factor to remember (for Mercedes and their fans) is that their W05 challenger has massive inputs from Ross Brawn and Michael Schumacher, who the team have used and dumped as per their convenience. But of course, Formula1 is a business first and sport later!
Nico Hulkenberg, the only non-Mercedes AMG Petronas driver lead a race this season, sizzled yet again while battling at the sharper end of the top 10 before settling for a well fought 5th place, adding 10 vital championship points to Sahara Force India's kitty. My choice for the 'driver of the day'.
The WilliamsF1 team scored double points, but not after a controversial race where Massa defied team orders to let Bottas through. While the issuance of this order could be debated, team orders seem to follow Massa irrespective of the team he drives for! And while most fans cheered his defiance (I did too!), my belief is that he could blatantly defy the order because unlike his previous contract with Ferrari, 'moving over for a faster team-mate' isn't explicitly written in his WilliamsF1 driver contract! Kudos! (Read: Winning Matters In F1, Not Participation)
But there does seem to be something about Malaysia and team-orders. If my memory is right, it started with and followed after the first race in 1999 with Schumacher-Irvine for Ferrari and then the famous 'multi21' with Vettel-Webber and the Rosberg-Hamilton incident last season. In a way, it adds to some mid-race excitement in a race that almost bordered on boring otherwise. (Read: Multi21, Team Orders And PR Talk)
The one driver who was probably bored today was Kimi Raikkonen after an early race jab by Magnussen that saw him suffer from a right rear puncture. While the Danish rookie was penalised for 'causing a collission' the damage to Raikkonen's race was already done.
And my post on the 2014 Malaysian Grand Prix would be incomplete without the mention of the curse of number two driver of Red Bull Racing that struck Daniel Ricciardo yet again. The Aussie driver would've finished fourth had a botched up tyre change and a dangling front wing led to a series of penalties that made sense to retire the car otherwise! And strangely, under the new rules this season to strengthen pit lane safety, Ricciardo has been issued a 10-place grid penalty for the 2014 Bahrain Grand Prix. Sigh!
 Race Results:
Lewis Hamilton – Mercedes
Nico Rosberg – Mercedes
Sebastian Vettel – Red Bull Racing
Fernando Alonso – Ferrari
Nico Hulkenberg – Sahara Force India
Jenson Button – Mclaren
Felipe Massa – WilliamsF1
Valtteri Bottas – WilliamsF1
Kevin Magnussen – Mclaren
Daniil Kvyat – Toro Rosso
Romain Grosjean – Lotus
Kimi Raikkonen – Ferrari
Kamui Kobayashi – Caterham
Marcus Ericsson – Caterham
Max Chilton – Marussia
 Retired:
Daniel Ricciardo – Red Bull Racing
Esteban Gutierrez – Sauber
Adrian Sutil – Sauber
Jean-Eric Vergne – Toro Rosso
Jules Bianchi – Marussia
Pastor Maldonado – Lotus
Sergio Perez
The post-Malaysia and pre-Bahrain Grand Prix episode of the Inside Line F1 Podcast will be live soon, do tune-in!
If you're an F1 fan and not following 'Die Hard F1 Fan', 'Addicted To Formula1' and 'F1Extra' on social media, you are surely missing out on some exciting real-time updates!