There's rejoice in the Indian Motorsport fraternity with FMSCI's re-recognition by the Govt. of India. A wrong has been righted in many ways! But is it 'Acche Din' for Indian Motorsport and Formula1? For those who missed it, as India prepared for the debut Indian Grand Prix in 2011, the then govt. in power (Congress!) delisted FMSCI from the NSF (National Sports Federations).
Firstly, there's little connection between this recognition and Formula1. I have read various posts and tweets of fans being hopeful for the return of the Indian Grand Prix, but no, that's to do with the Jaypee Group and Formula One Management (FOM). (Read: Bernie Checkmates The Indian Grand Prix) And it is important for my readers to know that Indian Motorsport (or the FMSCI) isn't about Formula1 only, there's far more to it.
This recognition bears well for the 'championships' that FMSCI organises. Their 'national' status is reinstated and this means it is easier to attract attention among media, sponsors and even participants (schools, colleges, etc.). It will also be easier to organise championships as procedural hurdles will be eliminated (or reduced) and possibly the FMSCI will be able to request exemption or subsidy on excise duty for various equipment needed. Basically, the logistics will be easier; one of the minor reasons why Formula1 decided to stay away from India after the 2013 Indian Grand Prix.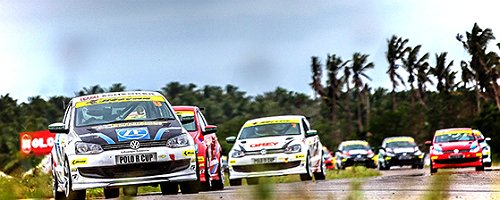 FMSCI is recognised in the 'Others' category and will get no grant from the government to promote the sport in anyway. While a lot would frown at this statement, the truth is that Indian Motorsport has reached this stage (and a respectable one at that) without much grant (unless I have missed some piece of history) from the government and by relying on investments from individuals and corporates.
Motorsport is an expensive sport, possibly the most expensive in the world with different economics involved (as compared to other sports). It is possibly the only sport where despite winning championships (in junior formulae) you will still need to fund your progress up the ladder (towards F1). Given this scenario, grants from the government would've been a welcome aid. I am not sure if the FMSCI has a robust framework to put the aid to good use and develop upcoming talent. But one could argue that this is a chicken and egg scenario.
To sum it up, I will quote Vicky Chandhok's (former President of the FMSCI) tweet 'the recognition doesn't change anything! It's merely the completion of a formality!'.
AND if you are really interested in the fortunes of the Indian Grand Prix back, here's what you should read 'Let's Save The Indian Grand Prix'.