It may not have been a good few weeks for Dhoni and his men in white on the cricket pitch, but if the developments in Indian Motorsport are anything to go by, we seemed to have elevated our offerings.
The successes of the Indian Grand Prix, the MRF and JK Series, followed by the SIDVIN Festival of Speed and the rise in performance of Sahara Force India have hopefully drawn more audiences towards the sport. While the glitch of not having an Indian driver on the Formula1 grid in 2013 looms, I hope that Mahindra Racing and now Dhoni's Mahi Racing Team add the extra glimmer that Indian Formula1 fans seek. (For the unknown, 'Mahindra' and 'Mahi' are not related and are two separate entities!)
By starting his own World Superbike Team (in the support Supersport Championship), Mahendra Singh Dhoni joins an elite and illustrious but limited list of Indian investors in motorsport. The list includes and is of course not limited to Dr. Vijay Mallya, Saharasri Subrata Roy, Anand Mahindra, Mohan Nagarajan (an interview with him is up next!), the Mammen (MRF) and Singhania (JK Tyres) families amongst others.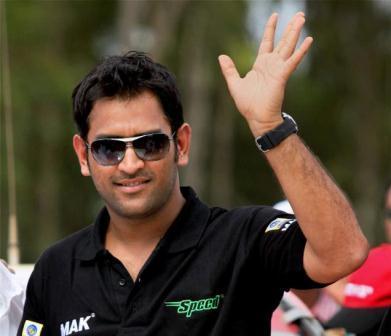 Along with his team, Dhoni plans to start two-wheeler racing academies in India. While the execution of such an academy would be difficult given our limited infrastructure, the idea by itself should attract a few million to motorsport in India hopefully. This would probably lead to more viewers on TV, spectators for the Indian Grand Prix and of course (and again, hopefully!) more readers for my Formula1 blog!
The main point that I am trying to make here is that while others have been promoting motorsport in India in their own ways, Mahendra Singh Dhoni is probably the best ambassador that the sport could ask for. A lethal mixture of the Indian Cricket (who better than the captain) and Motorsport should attract the average (or slightly above) Indian to a sport they have otherwise not bothered about. And I would certainly love to see the reactions of the public should he be able to steer his two-wheeler team to victory far more often and successfully than the Indian Cricket Team!
A similar occurrence took place a few years back when South Indian movie star Ajith Kumar took to racing single seater racing. I am not sure if there was a surge in followership for the sport back then, but I am certain that a Tollywood star going racing in Chennai did appeal to the locals there. Will Dhoni be able to mobilize the entire nation in a similar way? I am hopeful.
Also, memories of 2008 come back when Dr. Mallya announced his entry into the world of Formula1 with 'Force India' at the Gateway of India with a differently looking (for most Indians) car, the VJM01 and three non-Indian drivers, Fisico, Sutil and Liuzzi! For Mahi Racing, Dhoni has hired former World Champions to ensure that his team is within a shot of the title sooner rather than later.
And then of course, on similar lines to Dr. Mallya, will Dhoni be questioned for not hiring Indian two-wheeler racing talent? Dhoni's team will be Kawasaki's factory team in 2013, which should ease his on-track operations. However, I am keen to see how Dhoni goes about translating his passion for two-wheelers into a successful racing team on-track and in the bank!
Surely better than Arindham Chaudhari becoming an ambassador for Indian Motorsport via i1 Super Series! Seriously, 'Delhi Gypsies and Billionaires', what was the self-proclaimed marketing guru thinking!
Other Indian Motorsport related content 'Narain Karthikeyan and Karun Chandhok in the Race of Champions' and 'SIDVIN Festival of Speed'. Also, RJ Rishi Kapoor wonders if John Abraham will race for MS Dhoni's Mahi Racing Team a la 'Dhoom style', hear more about it here.