I wondered today, what would happen if every driver on the grid was given a Mercedes engine? Would that solve our current problems, or would it? (Read: What's Wrong With Formula One?)
Well, for starters, I am assuming that Mercedes would be able to manufacture 80 engines for the 2015 Formula1 Season (4 per driver X 20 drivers; not yet accepting the 5th engine rule!). Given economies of scale, I would hope that the engine costs per team would reduce. From what I have heard, it is a whooping 25 millions euros! The V8s were around 8! And reduction in engine costs is why Formula1 is now debating a dual engine formula. (Read: Racing First, Engineering Later)
I have two opposing views to the dual engine formula. First, it would add complexity to the sport and policing the engine output would always be difficult. It also takes away some much needed transparency. Second is for those wondering if a dual formula would be unfair to the teams. Here one could argue that the current engine performance is anyway unequal and has always been since many years. (Read: Engine No-ise)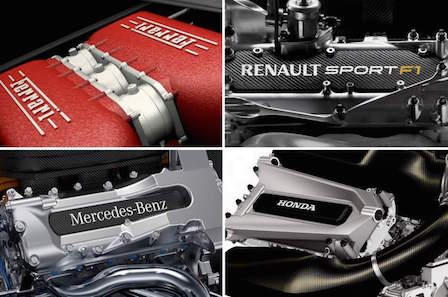 Back to 'Give Everyone Mercedes Engines', Red Bull Racing has demanded a competitive engine unit and they will have one. Which could probably mean that they won't quit the sport no more. It would be good to have Audi in the sport, but they seem reluctant yet, so why pressurize! And would the Toro Rosso still be quicker then? (Read: Thank You Red Bull Racing)
Mclaren's reunification with their old partners Mercedes seems like a better bet than their current partnership with Honda. Alonso back to winning ways will certainly give the sport a shot in the arm. But will this also expose Mclaren's flaws on the chassis side? (Read: Thank You Mclaren)
As for Ferrari, they can then invest their reportedly extra sum of $100 million on the chassis side and try closing the gap to Mercedes. And for their fanatic tifosi, a cheap badge can be printed and applied! Ha! (So long as we get a good sport!) (Read: Game On, Ferrari)
Lastly, the current customers of Mercedes are already used to a slightly slower spec of their engines, so not much would change for them anyway. And with this in mind, I would still expect Mercedes to lead the way, but the competition could get closer, I guess. (Read: What Formula One Can Learn From Red Bull)
Yet another cheaper way to fix the current problems faced by Formula1! To read my first solution, I welcome you to read 'Did Bernie Call Mercedes…?' And yes, here I go again with my 'Let's Save Formula1'.
Lastly, here's the link to the latest episode of the Inside Line F1 Podcast where Rishi and I talk about the jumping jack(man) from the 2015 Spanish Grand Prix. We also tell you why Ferrari should've mirrored Sebastian Vettel's tyre strategy with Lewis Hamilton's. And on that note, have Ferrari just got lucky in 2015 while Mclaren seem to be having a 'point'less season. Tune in!
The Inside Line F1 Podcast is now available on various platforms and I would welcome you to choose your platform to listen to the humour that we add to the otherwise serious and complex sport of Formula1. And while our podcast frequency is weekly, come 'like' the Inside Line F1 Podcast on Facebook and on Google+ for far frequent humorous updates from the world of Formula1.
If you are an Apple user, you can subscribe to the Inside Line F1 Podcast on the iTunes Podcast Store or via our RSS feed (for Android/Windows/Blackberry users – You will need a Podcast player!). The Inside Line F1 Podcast is also available on TuneIn Radio.
The Inside Line Formula1 Podcast is produced and hosted by Rishi Kapoor and Kunal Shah. Follow us on Twitter and on our Soundcloud, DailyMotion, Spreaker, MixCloud and YouTube channels.