Self proclaimed marketing and management Guru Arindham Chaudhari was announced today as the owner of the Delhi franchise of the Indian Racing League's i1 Super Series. Quite a disappointment after a media statement only last week indicated that the Burman family was picking up the Delhi franchise. (Read post: i1 Super Series Reveals Franchise Owners And More)
However, today's announcement came days after Shahrukh Khan bought the Mumbai franchise of the same series. Some fast paced announcements from the series organizers Machdar Motorsport and why not – their first race is as early as January 2012 and much is yet to be known.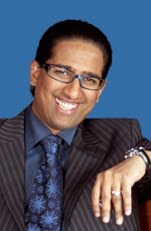 Chaudhari is known to be an economist and runs the Indian Institute of Planning and Management in India and is the founder of Planman Consulting. I assume that Chaudhari would be investing in this franchise via his company Planman Stars, a company he founded for investing in the betterment of sports. In his press statement, Chaudhari indicated that one of his prime reasons for investment was when he came to know that Sachin Tendulkar and Shahrukh Khan (Read post: Shahrukh Khan To Own Mumbai Franchise Of The i1 Super Series) were involved with the series. He also revealed that he could be investing $5-6 million in his franchise in the first year itself and I really hope he knows what he would be investing in, after all, the technology is provided by the organizers and it is only the brand and its marketing that will be a major investment for the franchise owners.
Chaudhari's key investments have been in the education sector, however, he also has invested in movies (both Hindi and regional) and has authored many management books (most famous being 'Count your chickens before they hatch'). Incidentally, Chaudhari's latest book was launched a few months back by Shahrukh Khan, who is now a rival team owner in the i1 Super Series.
Chaudhari's marketing genius has often been questioned, but I will be following his brand building and marketing activities for the Delhi franchise. However, one must tell Chaudhari that in motorsport, it is the 'fastest' team that wins and not the most 'marketed'.
Read the hot topic on the i1 Super Series on my blog: Should Narain Karthikeyan and Karun Chandhok race in the i1 Super Series