I have been vocal about the 2012 Indian Grand Prix being a bore and RJ Rishi Kapoor and I try not to discuss that too much in this Formula1 podcast. I am still surprised that we went through an entire Formula1 race with only one pitstop for most drivers!
Anyway, here's what the latest podcast has to offer: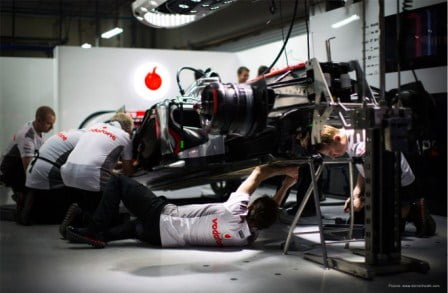 Fastest ever 'five wheel' pit-stop by Mclaren? We watched in awe, did you too?
Rishi has an insight on Mercedes after their announcement of signing Hamilton. Hear it! (Read: Hamilton To Replace Schumacher In Mercedes In 2013)
And movements in the driver market, also in the Constructors' Championship!
Hulkenberg moves, Vergne and Ricciardo stay – few cockpits, many names being discussed
The 2012 Abu Dhabi Grand Prix kicks off tomorrow. Rishi wants Vettel to clinch the crown and I want Alonso. While we are on opposite sides, do let us know who you are rooting for!
Over to Yas Marina!
***
Other interesting posts to read: