There could have been many headlines to this exciting piece of news! 'Liuzzi Out, Karthikeyan In At HRT' was one of the options, the other was 'Narain Renews Contract With HRT For 2012', but I chose to go with something very simple.
Anyways, coming to the main point, India's first Formula1 driver, Narain Karthikeyan announced today that he has renewed his contract with the Hispania Racing Team for the 2012 Formula1 Season. My first reaction? SURPRISE! I had written an earlier post 'Where will Narain Karthikeyan be in 2012' and I suspected that he could be in Formula1 but not necessarily in a 'race driver' role.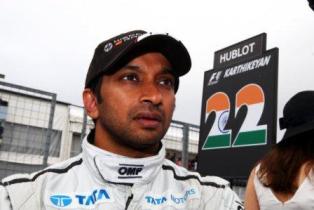 To think of it, Narain managed to spring the same surprise onto his fans in 2011 when he announced his comeback with HRT.  However, this year, there were drivers like Liuzzi, Alguersuari, Heidfeld, Sutil, etc. vying for this seat and it is good to see Narain emerging victorious from this fight.
The best part of this announcement was that unlike the 2011 Formula1 season, where Narain was dropped in favour of Daniel Ricciardo from the 2011 British GP, Narain would drive for Hispania Racing for the entire 2012 season. This would help him build continuity in his career and of course help him gun for better results on track. However, in the released run order for the first pre-season test in Jerez, HRT will only have de la Rosa in their cockpit, which means that Narain won't be testing the HRT car till mid-February.
Narain will partner Spanish racing driver Pedro de la Rosa in 2012 and his announcement confirms all the 24 drivers for the upcoming season. While Narain's sponsors haven't been confirmed yet, it would be safe to assume that TATA Group would be one of the largest contributors for his seat.
A contrasting week for Indian Motorsport fans; the disappointing news of i1 Super Series cancellation was followed by the exciting announcement of Narain Karthikeyan's contract renewal.
More thoughts on Narain Karthikeyan and HRT to follow.
Earlier posts of Narain Karthikeyan and HRT: