First, it was Ferrari, followed by Red Bull Racing and now it seems to be the era of domination for Mercedes. Whether the domination is boring or not, depends on where your loyalties lie. For me, they lie with the other Mercedes of Nico Rosberg. So like I said before, I now feel what it is like to have your not so favourite driver dominate.
But I take nothing away from Lewis Hamilton, his talent and his hat-trick of wins. He is doing what Michael Schumacher and Sebastian Vettel did in their days – make the most of his machinery, which is a class apart from the rest yet. And after having beaten Schumacher as his team-mate for three years, Rosberg possibly has found his most uphill Formula1 battle yet. The 2014 Formula1 Season is only going to get more interesting and we are yet to see Red Bull, Ferrari and Mclaren intensify the battles.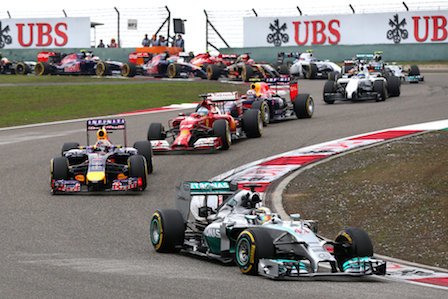 In the latest episode of the Inside Line F1 Podcast, we discuss a whole host of topics ranging from Mercedes and Hamilton's domination, Ferrari and Red Bull Racing playing catchup, Mclaren losing ground and Sahara Force India being the best of the Mercedes customer teams. Here's what's in store in our Formula1 Podcast:
Four races concluded, what is our conclusion on the new 'formula' of Formula1? (Read: Let Us Save Formula1)
Why we need Ferrari to do well; wouldn't we all relish a classic Ferrari vs. Mclaren battle?
FIA judged it right with the Red Bull Racing fuel flow issue appeal, but erred in the 2014 Chinese Grand Prix when it came to basic math?
Should we do away with the advanced active telemetry systems? Hear our view!
In our feature on the business of the sport, should Formula1 learn from the other sports leagues and distribute power and money in a far more fair manner?
And lastly, if Mercedes is the new Red Bull Racing, who is Ferrari and where does this leave Mclaren?
The 2014 Spanish Grand Prix is three weeks away and in the next episode of the Inside Line F1 Podcast, we introduce a new feature on our show called 'Know Thy Racer' where we will speak to upcoming motorsport talent from India and other countries.
The first driver on our show is Chennai lad Aditya Patel who can safely be labeled as India's best tin-top racer. Do tune in next week to hear about Aditya's progress in the field of motorsport, plans for 2014 and views on the 2014 F1 season.
And if you believe that you need to be featured and your racing talent needs to be spoken about to our audiences, feel free to drop us a mail (or a comment in the section below!). Till then, keep listening, keep racing!
The Inside Line F1 Podcast is now available on various platforms and I would urge you to choose your platform to listen to the humour that we add to the otherwise serious and complex sport of Formula1. And while our podcast frequency is weekly, come 'like' the Inside Line F1 Podcast page on Facebook for far frequent updates on the humour in the world of Formula1.
If you are an Apple user, you can subscribe to the Inside Line F1 Podcast on the iTunes Podcast Store or via our RSS feed (for Android/Windows/Blackberry users).
The Inside Line Formula1 Podcast is produced and hosted by Rishi Kapoor and Kunal Shah. Follow us on Twitter and on our Soundcloud, Spreaker, MixCloud and YouTube channels.