Just the time of the 2013 Formula1 Season that we were waiting for – testing to end, racing to begin! It is that time of the year when all Formula1 fans sit back, observe timings and read as many reports available to find out the quickest teams from testing. However, like most years, it is only when the sport reaches the 2013 Australian Grand Prix does one find out the real truth.
I have written about testing in the past (The Fun Part Of F1 Testing) and Rishi and I have recorded a few podcasts before too. Do hear the 'Pre-season Testing' and 'Ban On In-Season Testing' podcasts as well.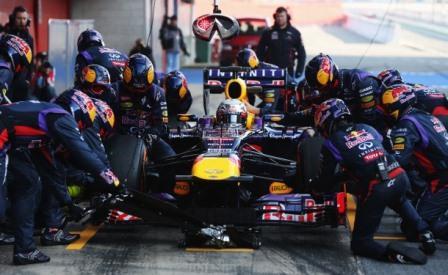 In this week's Formula1 Podcast, here's what we discussed: (YouTube channel: http://youtu.be/5_gYyfpsmdg)
Adrian Sutil is back! Jules Bianchi got a seat too! Boy! Aren't we happy!
Last week, we predicted Razia's ouster. While we were proved right, we observe a minute's silence for his now dead Formula1 dream (and hope for a quick resurrection!)
Question of the week: Were teams sandbagging in the pre-season tests? We answer!
We pick our top three teams basis the pre-season tests. Agree or disagree with our picks?
We've enjoyed bringing our pre-season podcasts to you and hope you've enjoyed it too. Now, like you, we eagerly await the start of the new Formula1 season. Excited, are you too?
Inside Line Formula1 Podcast is produced by Rishi Kapoor and Kunal Shah. Follow us on Twitter!
Hear our previous podcasts that have received good listenership: 'Last Formula1 Season For Ross Brawn', '11 New Drivers In Formula1', 'Happy New Season' and 'Formula1 Podcast Awards'.
And if you're the type who likes to read as well, below are a few posts that you should read too: