Lewis Hamilton finally has twin Formula One World Championships to his name (Lewis Hamil-twin!)! By winning the 2014 Abu Dhabi Grand Prix, he finally added the second title to his name, six years after clinching his first. If Rosberg was the hero on the Saturday, Hamilton ensured that he was the act to look out for on the Sunday. His start was possibly the best we've seen since a few seasons, so much so that we almost thought he had jumped the lights! He did 'drive it like he stole it'! (Read: Lewis Hamilton Is Formula One World Champion)
Congratulations to Mercedes too for 16 race victories in a season, a record for the sport, but we must express a slight disappointment towards the 2014 Constructors' Champions. In a race where double points were being awarded, every other team got their best equipment but for that lone Mercedes powered car of Rosberg. And we know we are not the only ones thinking 'sabotage'! (Read: Nico And Nicole)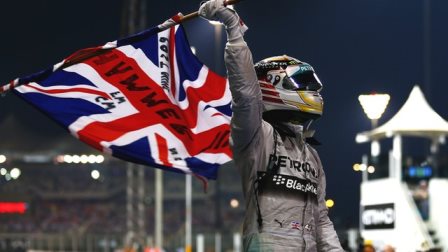 We also know that we aren't the only fans wondering 'what if' it was Hamilton's car that encountered mechanical problems. All hell would've broken loose, we bet! Kudos to Rosberg for a splendid fight and a super display of gamesmanship post-race! (Read: ROS The Boss)
Felipe Massa's drive to the podium deserves credit, much as Bottas' rise and fourth in the Drivers' Championship this season. And who'd have thunk that of all the drivers, Alonso would be seeking inspiration from Massa!
Was this Jenson Button's last Formula1 race ever? We hope not, but if it was, he did help Mclaren keep ahead of Sahara Force India in the Constructors' Championship. And why is Mclaren taking so long? Dennis indicated a 'fourth driver' in a recent interview and we wonder who that could be. Nevertheless, an Alonso – Button pairing would be a delight to watch! (Read: Alonso To Endorse Raymond Suitings)
But we wonder if we were the only ones to notice that Alonso's 'farewell' from Ferrari wasn't as celebrated (emotionally?) by the team like they did with a Schumacher or even a Massa last season. And they claim that they parted on good terms! (Read: Ferrari, Alonso, Raikkonen And Hulkenberg)
The Ross Brawn to Ferrari rumour has done the rounds at almost every fourth race in the 2014 Formula1 Season. Should that be true, the Vettel – Raikkonen pair would have much to gain from the eight times World Champion! And then we believe the only person missing in this picture would be Jean Todt? (Read: Ross Brawn's Last Formula1 Season)
And lastly, Rishi and I have decided to take a month's break from the Inside Line F1 Podcast before resuming by the end of December to bring to you our Inside Line F1 Podcast Awards. We've enjoyed presenting our Formula1 podcast to you for the third season in succession; thank you for listening and 'Keep Racing'!
The Inside Line F1 Podcast is now available on various platforms and I would welcome you to choose your platform to listen to the humour that we add to the otherwise serious and complex sport of Formula1. And while our podcast frequency is weekly, come 'like' the Inside Line F1 Podcast on Facebook and on Google+ for far frequent humorous updates from the world of Formula1.
If you are an Apple user, you can subscribe to the Inside Line F1 Podcast on the iTunes Podcast Store or via our RSS feed (for Android/Windows/Blackberry users).
The Inside Line Formula1 Podcast is produced and hosted by Rishi Kapoor and Kunal Shah. Follow us on Twitter and on our Soundcloud, DailyMotion, Spreaker, MixCloud and YouTube channels.