The next big news for the 2012 Indian Grand Prix seems is out. (First being: Airtel To Partner Mercedes AMG Petronas For The 2012 Indian Grand Prix) While it hasn't been widely reported by Indian or global media, there are news that Narain Karthikeyan and his team HRT will be performing a demo run in their car on the streets of Thiruvananthapuram, Kerala. The demo drive will be on 28th August, the first day of the Onam.
This would be the first in a series of long promotions that Indian Formula1 fans would expect as a lead up to this year's race and demo car runs are the best way to promote the sport to the Indian audiences. Local news has revealed details on the route of the demo and it will be held on the three km stretch of the Kowdiar – Palayam road. However, if there are any readers who have more information in terms of pictures of the roads / locations, etc. please feel free to share them with me and I shall host them on my blog.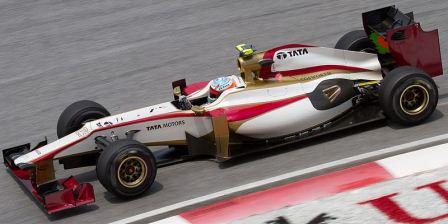 Organising a demo car is an expensive affair as it involves flying the car along with its spares, engineers and mechanics to India and getting permissions from the local government authorities to block public activity on the roads. To promote the sport in Kerala, Karthikeyan and HRT have the support from the local government and the tourism ministry. The good news of course is that the Indian government is finally cozying up to Formula1 as a sport, even if it only in parts. Any acceptance at this stage is good as it was only a few years back that the Sports Ministry termed Formula1 as 'entertainment'.
If there are any local readers from Kerala who can share more information, please do so. Also, anyone planning to visit the demo run? If so, do connect with me and if there are pictures or videos that you can shoot, I shall get them published on my blog and on iSport.
Most read Narain Karthikeyan and HRT post on my blog: Has TATA Made The Wrong Decision With HRT?