My creative pal and co-host RJ Rishi Kapoor thought of the headline! For me, it was 'Plan B Wins It For Hamilton', to which Rishi adds that 'Plan B Scr***d Button!' The 2012 Hungarian Grand Prix did pan out well and we are somewhere glad that Lewis Hamilton and Mclaren won. Would we have been happier had one of the Lotuses won? Probably yes!
Topics discussed in our latest podcast: (This is also my post 2012 Hungarian GP Race Report)
Curse ESPNStar, did you too? Ah! Well, could they have handled this no-show better? (Read: Hamilton Hero, ESPNStar Zero)
Olympics and Formula1 clash! The only good news yet has been my friend and a BIG Formula1 buff Gagan Narang won a bronze!
Hamilton – mature drive? And Button would be pissed about 'Plan B'? Wouldn't we love to be a fly on the wall in the Mclaren post-race debrief with Button!
Alonso's 40 point lead. Now did you ever imagine this at the start of the season?
The 'bang' that was apparently heard in the Red Bull garage? We wonder if it had anything to do with Webber!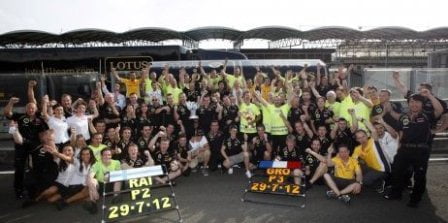 Raikkonen's radio messages! Aren't they too much fun? And could he have won in Hungaroring?
Lotus, a strong contender in the Constructors' Championship? Do you also wonder why have they not won yet?
Rishi and I differ on Maldonado's penalty! Your thoughts?
Schumacher, if we say anything more, we will only sound very repetitive! Sigh! A pissed off Rishi wants Mercedes AMG to quit Formula1 altogether! (You can LOL with me!)
Click to hear the 2012 Formula1 Podcast
So the sport goes on a month long vacation in August, however, Rishi and I will be there every week, bringing this podcast to you. We will try and bring in some feature stories in the next few podcasts to explain the sport better. So if you have any question or queries that you would like us to answer, please feel free to use the comments section below.
And if you have a time machine, please accelerate us to Spa!
Read this week's most read article Airtel To Partner Mercedes AMG Petronas For The 2012 Indian Grand Prix.