That's a strange stat, isn't it? Lewis Hamilton stormed into Formula1 in 2007 as a Mclaren prodigy and he almost won the Drivers' Championship in his debut season. His talent and determination has never been under question, which is why Mercedes chose to hire him as the legendary Michael Schumacher's replacement. However, one does wonder ever so often why Hamilton has collected only one title yet.
However, for you Hamilton fans (well, I ain't one exactly!), whenever it is that the Brit has won a hat-trick of races, he has gone on to win the championship (data from his Formula Renault, GP2, etc. days). Yes, this does indicate that four races into the season, he is the favourite to win the Drivers' Championship title for the 2014 Formula1 Season. What supports this stat even more is that since 1989 (Prost!), no driver has won the Drivers' Championship without winning one of the first four races of the season.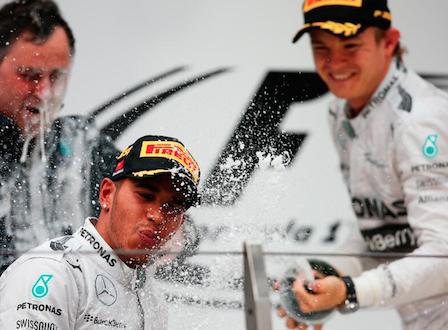 Nico Rosberg, our current leader in the Drivers' Championship, has the next fortnight to dig deep in his mind before appearing in Barcelona for the 2014 Spanish Grand Prix. To me, their battle is gaining more psychological importance than ever and Hamilton is currently enjoying the edge over his friend and team-mate. Rosberg's P2 finish in the 2014 Chinese Grand Prix must be given credit has he drove the entire race minus telemetry and it was fun to hear his pit-to-car radio with data inputs being shared manually with his engineer.
Given that Rosberg could manage without the super important but expensive telemetry systems, could this be the framework of what the next 'formula' of Formula1 could be? I mean, if we have done away with fuel guzzling V8s because of their decreasing importance to car manufacturers, I am yet not aware of a car using telemetry to its advantage in typical road driving conditions. (Read: Engine No-ise)
Ferrari's podium finish was a surprise to everyone, Alonso included. Raikkonen's struggles, not so much. Red Bulls were clearly the second fastest team on track today and one can only salute Alonso's talent and effort to finish ahead of them and comfortably so. Luckily for him, the Red Bulls were involved in a little but interesting scrap of their own with team-orders being issued yet again to Vettel to let Ricciardo pass. The quadruple World Champion took a couple of laps before eventually deciding to obey the orders; it was possibly those couple of laps that Ricciardo needed to challenge Alonso towards the end for a podium finish.
Many have expressed surprise at Red Bull's handling of Vettel over the issuance of team-orders, possibly Vettel himself. But the logic seems pretty clear to me. Ricciardo has settled in the team and car comfortably, has been quicker amongst the two and most importantly, like Vettel, he too is a product of the Red Bull Racing driver program; unlike Mark Webber. And in the Red Bull Racing system, Kvyat is the new Ricciardo, who is now the new Vettel, who is the new Webber? (Can't remember who tweeted that!)
The prodigious Russian and Red Bull junior driver finished in the points for the third time in four races, as did Sahara Force India, who registered a double points finish with Hulkenberg finish 6th and Perez, 9th. However, it was Caterham's Kobayashi whose valiant chase and last lap overtaking of Bianchi for 17th place was negated as the FIA erroneously waved the chequered flag a lap earlier.
My 'driver of the day' choice would be split between Lewis Hamilton for his total dominance and Nico Rosberg for his fightback without the direct help of the pit-wall. I have been a Schumacher and Vettel fan all along, so I never really was the one who got bored of their dominance. However, I possibly realised for the first time today how a fan feels when the driver dominating the weekend is far from being your favourite. But if I am pressed to make a choice, Rosberg would lose out on the fact that he committed way too many mistakes in qualifying to put himself in a difficult spot on Race Day. He should consider himself lucky that he lost only 7 points in the title fight.
The biggest disappointment of the weekend would be the non-performance of Mclaren. Button and Magnussen were fighting outside of the competitive mid-field for a majority of the race and ended the race without scoring a single point for the team from Woking. Mclaren need to consistently make the most of their Mercedes power unit, like WilliamsF1 and Sahara Force India have.
And then of course, there's Felipe Massa, possibly everyone's favourite but not Lady Luck's! After a superb start where he banged wheels with Alonso, a botched pitstop saw him finish a lowly 15th and outside the points. The WilliamsF1 team have the pace, but need to ensure that they steer clear of problems on Race Day to showcase their true potential and collect as many points as possible.
Up next is the 2014 Spanish Grand Prix, which marks the start of the European leg of the season. While fans will miss the action for three weeks, teams will be working overtime to bring as many updates as possible for the GP. Given the proximity between the factory establishments and the circuits in Europe, I would expect the pecking order to change a little come Barcelona, without a doubt that Mercedes will still be the team to beat.
Race Results from the 2014 Chinese Grand Prix:
Lewis Hamilton – Mercedes
Nico Rosberg – Mercedes
Fernando Alonso – Ferrari
Daniel Ricciardo – Red Bull Racing
Sebastian Vettel – Red Bull Racing
Nico Hulkenberg – Sahara Force India
Valtteri Bottas – WilliamsF1
Kimi Raikkonen – Ferrari
Sergio Perez – Sahara Force India
Daniil Kvyat – Toro Rosso
Jenson Button – Mclaren
Jean Eric Vergne – Toro Rosso
Kevin Magnussen – Mclaren
Pastor Maldonado – Lotus F1 Team
Felipe Massa – WilliamsF1
Esteban Gutierrez – Sauber
Jules Bianchi – Marussia
Kamui Kobayashi – Caterham
Max Chilton – Marussia
Marcus Ericsson – Caterham
Did Not Finish:
Romain Grosjean – Lotus F1 Team
Adrian Sutil – Sauber
The next episode of the Inside Line F1 Podcast should be published for your listening and sharing in the next couple of days. We are enjoying a brilliant run with our Formula1 Podcast and I would like to thank each one of our listeners to making it a success. In the mammoth world of Formula1 media, we are possibly like the privateer teams doing our own thing against the biggies! A comment from one of our listeners on the Inside Line F1 Podcast page on Facebook is possibly what it feels like to get on to the podium!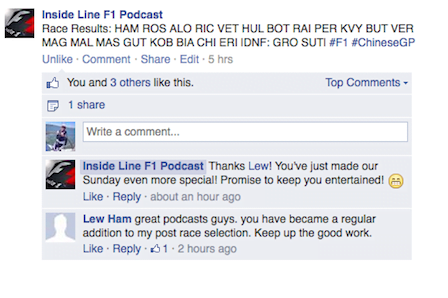 If you're an F1 fan and not following 'Die Hard F1 Fan' and 'F1Extra' on social media, you are surely missing out on some exciting real-time updates!