The 2011 Canadian Grand Prix will go down in history as one of the longest races in the history of Formula1. The total time taken to complete the race was about 4 hours 4 minutes, but much of that time was spent under a Red Flag period that lasted over 2 and a half hours.
Rain was expected this weekend, but gave qualifying a miss on Saturday (Read 2011 Canadian GP Qualifying). When it did arrive on Sunday, it stopped proceedings. Drivers were complaining that the conditions were not conducive to racing and that prompted Race Control to issue a Safety Car period before finally red flagging the race due to bad weather conditions.
The cars lined up on the grid and teams were allowed to work on their cars as they did in the Monaco GP.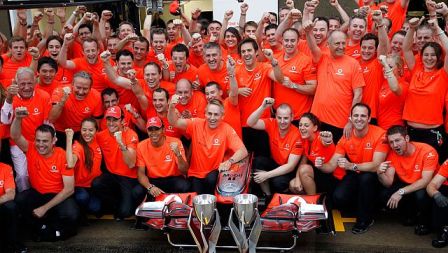 Here are my thoughts:
Jenson Button scored his 10th F1 GP win, by far his best and most interesting one. Button won the race even though he pitted 5 times, collided with team-mate Lewis Hamilton and Fernando Alonso and suffered from a mid-race puncture. He won the race on the last lap after initial leader Sebastian Vettel made an unusual mistake that saw him lose the race lead with only half a lap of the race to go. Button was also slapped with a drive-through penalty for speeding in the pit lane during one of the Safety Car periods.
Jenson Button's collision with Lewis Hamilton was uncalled for. The Stewards deemed it as a 'racing incident' in their post-race investigation, but clearly someone needs to tell Lewis Hamilton to calm down and respect the other drivers on track. Hamilton was the biggest loser of the Canadian GP since he was the only driver who didn't resume the race after the restart. Within a span of 7 laps, Hamilton managed to nudge Mark Webber into a spin, out-braked himself into the hairpin while battling with Schumacher and finally ended his race by colliding with team-mate Jenson Button.
Jenson Button is now 2nd in the Driver's Championship with 101 points, while Hamilton is 4th with 85.
Sebastian Vettel collided in the 'Wall of Champions' on Friday but still managed a fantastic pole on Saturday. I would say that Vettel was the luckiest driver of the Canadian GP as he almost never relinquished his lead during the multiple Safety Car periods. The only mistake he made in the race was on the last lap of the race, where he put his dry tyre onto a wet patch and lost his rear. The mistake was costly as it saw Button snatch the race lead with half a lap to go. Vettel ultimately finished 2nd and now has a healthy 60 point lead in the Driver's Championship.
Mark Webber's KERS issues didn't hamper him much while he charged his way to 3rd place. Webber was hit by Hamilton on the first lap that caused a spin and saw him rejoin in 10th. He fought with Michael Schumacher to claim the last step of the podium. Webber was one of the first drivers to gamble with racing slicks on a drying track on lap 51 and the gamble did work in his favour.
Michael Schumacher, who ran 2nd and ultimately finished 4th in the race drove his best race ever post his return to the sport. His tyre strategy was spot-on and was one of the fastest drivers on track towards the end of the race when the track was drying. His move on Kobayashi and Massa to claim 2nd is possibly the best of the season yet. Nico Rosberg on the other hand finished 11th and outside the points. Rosberg finished the race without his front wing!
Ferrari should've won the race on Sunday, however, Alonso's collision with Button and ultimate exclusion from the race meant that their chances were severely dented. Felipe Massa was looking strong for a podium finish when an unexpected Narain Karthikeyan caused Massa to go on the wet line and ultimately crash and damage his front nose cone. Karthikeyan was being lapped by Massa, who finished a disappointing 6th.
Lotus Renault GP were in for a strong finish as both their drivers were running in the top 10. However, it was only Petrov who managed to bring home points in 5th place after Heidfeld was taken out of the race while attempting to overtake Kamui Kobayashi. Heidfeld's crash was uncertain after he nudged the back of Kobayashi who was a tad too slow while exiting from the Turns 2 & 3 sequence. As a result, Heidfeld drove over his front wing before retiring. This incident caused one of the many Safety Car periods.
An incident packed race is usually when we see the mid-grid teams gain a good chunk of points. This time it worked in the favour of Scuderia Toro Rosso drivers who registered a double point finish. Alguersuari, who started from the pits, drove a clean race to finish 8th and scored his first points of the season. Team-mate Buemi scored the last available championship point in 10th.
Force India's drivers would've managed a larger chunk of points than Toro Rosso as their drivers were comfortably running in the top 10. Paul di Resta was running as high as 5th place before he was slapped with drive-through penalty for a collision with Nick Heidfeld. Adrian Sutil switched to the dry weather tyre a lap too early and touched the wall on his out lap damaging his left rear suspension. Both drivers did not finish the race.
Kamui Kobayashi, who was racing as high as 2nd in the race, finished 7th after his Sauber car lost pace towards the end of the race. Kobayashi was one of the few drivers who didn't pit in the early part of the race and was gifted a free pitstop during the Red Flag period. Stand-in driver Pedro de la Rosa finished 12th.
Rubens Barrichello finished 9th while rookie team-mate Pastor Maldonado failed to finish the race after contact with Nico Rosberg.
HRT registered their best finish of the season yet after Tonio Liuzzi and Narain Karthikeyan brought their cars to the flag in 13th and 14th place. Narain was hit with a 20 second post-race penalty for straight lining the chicane which ultimately saw him finish 17th. The HRT's finished ahead of both Virgin Racing cars and a Team Lotus car.
Both Virgin Racing cars finished the race, but not without Jerome d'Ambrosio getting a penalty for using the intermediate tyres before Race Control allowed drivers to. They finished 14th and 15th.
Team Lotus Racing saw Heikki Kovalainen retire due to a drive shaft failure and Jarno Trulli finished in 16th position.