Sebastian Vettel clinched his 7th pole of the 2011 Formula1 season in what was an anti-climax of a qualifying session in Valencia. Mark Webber in the other Red Bull will start second in today's race.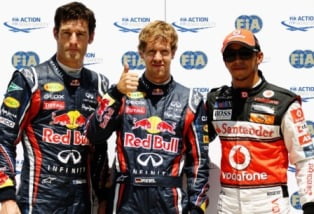 Observations from European Grand Prix Qualifying:
The European Grand Prix is the second GP in Spain in a span of 5 weeks. Case of Bernie Ecclestone making the most of Fernando Alonso's popularity?
The Pirelli medium tyre is a second to second and a half slower than the Pirelli softs. For race viewers, the medium tyre is indicated by the 'white' lettering on the tyre and the soft tyre by 'yellow'. (Read Pirelli Tyre Codes For F1 2011 Season)
Mark Webber suffered from KERS issues yet again in the practice sessions. KERS is important in Valencia given the nature of the circuit and has a benefit of upto 0.4 second over a single lap. Webber could've suffered yet another qualifying embarrassment as he chose the medium tyre to clock a lap in Q1. His lap however wasn't the quickest and narrowly made it through Q2. While he saved a set of soft tyres, it seems Red Bull and Webber aren't learning from their previous mistakes. Webber could've well started 17th or beyond on the grid as compared to his eventual P2 position. It will be surprising to know that this is Webber's only 3rd start from the front row of the grid this season.
Q1 also saw the top runners use the medium tyre to their advantage. Unlike the previous GPs, we saw the likes of Vettel, Alonso and even Button clock more laps than expected in the first session of qualifying. It was good to see the top runners utilize the time in gaining more mileage from their car and tyres.
Felipe Massa was on pole in Q1 as he used the softer tyre to his advantage. While most thought that he wasted a set of softs, Massa re-used that set of tyre in Q2 to eventually qualify for the Q3 session. Some thinking (finally!) from the Ferrari camp!
Nico Hulkenberg, Force India's Friday test driver crashed heavily in the FP1 session on Friday. His crash had a direct impact on rookie Paul di Resta's pace and readiness for qualifying, who had loaned his car to Hulkenberg for the session. While Paul lost valuable track time and struggled with car setup, the Force India team also lost the opportunity to test their new front wing. Paul di Resta eventually qualified 12th, two slots behind Adrian Sutil, who made his first appearance in Q3 this season and will start the race in 10th.
Adrian's gutsy drive in Q2 of qualifying saw him out pace the Lotus Renault car of Vitaly Petrov in the dying moments. Smart strategy from the Force India team meant that Adrian didn't clock a laptime in Q3 of qualifying. This will mean that he has an extra set of soft tyres for the race. The Force India car, VJM04, has consistent race pace and I am hoping that both drivers finish in the points in the race.
For Karun Chandhok fans, while the Team Lotus Racing management did give him a run in Friday's Free Practice (in place of Jarno Trulli), sadly for Chandhok, his car had a gearbox problem and hence didn't manage a single lap. Trulli's absence in FP1 and lack of track time showed in qualifying as he spun off on his fast lap and eventually ended 20th and 6 tenths off his team-mate Heikki Kovalainen who will start 19th.
Are Friday test drivers hampering team preparations for the Grand Prix weekend? I should share my thoughts on this topic soon.
Jaime Alguersuari was the fall guy in Q1 of qualifying yet again as he only managed to clock the 18th fastest time, 6 tenths off his team-mate Sebastian Buemi in 17th. Alguersuari surely is under tremendous pressure to save his seat in the team. Rumours are already spreading regarding his replacement in the second half of the season.
Q2 saw a red flag due to Pastor Maldonado's car suffering from mechanical problems. The red flag ruined qualifying runs for many drivers including Felipe Massa.
Q3 saw an anti-climax of qualifying. The top runners had already set their laptimes, but had to make another attempt since the track was getting quicker. However, no driver barring Webber was able to make an improvement on their final run. Alonso and Hamilton chose to abort their second run and save that set of tyre. Vettel and Red Bull displayed good strategy as they were the last to go out on the second run, which allowed them to track competition and pull off their second run should no one go quicker – that is exactly what happened.
While it made perfect racing sense, to abort the second runs since they were slower, I believe that the fans were deprived of some much expected qualifying bull-fight as Mclaren and Ferrari attempted to thwart Vettel off his 7th pole.
Nick Heidfeld, who qualified ahead of team-mate Petrov, will start the race 9th after he too decided to not set a competitive laptime in Q3.
Mercedes GP drivers Nico Rosberg and Michael Schumacher will start 7th and 8th respectively and as the team revealed later, the gap between their two drivers was only 62 cms or 0.09 second on track!
The start of the race will be exciting with the long run into the first corner. Should the Red Bulls have issues with their KERS, Alonso and Hamilton who start from the 2nd row of the grid should be able to out-brake their Red Bull rivals.
The 2011 Canadian GP winner Jenson Button (Read 2011 Canadian GP Race Report) had a lackluster qualifying performance and will start the race 6th.
The most interesting statistic from the qualifying session in Valencia is that the top 5 on the grid this year is the same as the 2010 European GP.
Sebastian Vettel has led around 80% of the laps this year, with Jenson Button a distant second having led only 7%. (Read F1 Statistics)
Valencia is the second race in succession where the FIA have approved a double DRS zone. I would expect Red Bull Racing and Sebastian Vettel to clinch a pole to flag victory and from the mid-field do watch out for Michael Schumacher and both the Force India cars to make some progress.