The first major news towards the 2012 Indian Grand Prix is now out! Telecom major and the title sponsor of the Indian Grand Prix, Airtel, have forged a one-race partnership with the Mercedes AMG Petronas team for this year's Indian Grand Prix.
This partnership will see Airtel have access to exclusive content of Mercedes AMG Petronas and co-branded merchandise that can be used on the Airtel Money platform as revenue generators. Additionally, via promotions and contests, Airtel's consumers will have an opportunity to meet with the Mercedes AMG Petronas drivers, Nico Rosberg and Michael Schumacher! And for the duration of the Indian Grand Prix, Airtel's logos will appear on the W03, driver helmets and suits.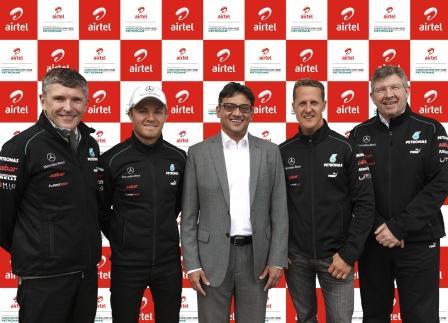 Airtel's association with the Indian Grand Prix is nearly a year old now and has offered excellent visibility to the brand. However, the association doesn't offer rights which the telecom company could monetize. By tying up with Mercedes AMG Petronas, Airtel seems to have bridged this gap. The rights to content distribution and co-branded merchandise offer good monetization opportunities and it would be interesting to see how they go about doing so.
As for the Mercedes AMG Petronas team, this association will offer increased access to Indian Formula1 fans and engage them further on Airtel's telecom networks, which include mobile, broadband internet, digital TV and more. Content and its accessibility are key in Formula1 but with restrictions put forth by the FOM, fans get little content to access and consume other than Grand Prix content. Mercedes AMG Petronas have generated some good content over the years and Airtel's platform would be best suited to distribute it amongst Indian Formula1 fans.
Read more on marketing around the Indian Grand Prix and in Formula1: