Narain Karthikeyan's dropping by HRT and subsequent replacement with Aussie driver Daniel Ricciardo was the big Formula1 story last week.
The news of course hasn't gone down too well with the Indian F1 fans and I wonder what Narain's sponsors, the TATA Group and Base Batteries feel about their driver being dropped. Narain too hasn't made an official statement yet.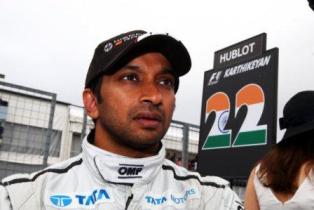 Buzz is that Narain was dropped by the team due to lack of speed and performance not matching his team-mate Vitantonio Liuzzi. The buzz is incorrect! Hence, I thought of penning this blog post and letting Indian F1 fans know the actual reason.
Narain's performance in the 2011 season has to be applauded. After a 5 year hiatus from the sport Narain has shown speed and commitment in his drive. He might not have beaten his team-mate in any of the races yet, but the difference in their laptimes has come down drastically in the last few races.
Narain started the season with an average deficit of 1-1.5 seconds to Tonio. In Valencia qualifying, he was just about 8 tenths off and in Canada he was only a tenth off. While Narain still qualified only at the back of the grid, his performance improved race after race.
A lot of Indians feel that Narain's coming last is the reason for his dumping. F1 fans must remember that the HRT F111 is probably the slowest car on the grid and if Narain has been last, his team-mate barring a session or two, has been second-last. The F111 is not capable of challenging the other cars on the grid and the closest it has come to beating another team car is the Virgin Racing car.
Pointers are only to indicate that Narain's performance isn't the reason. So what is? I have written about the role of Politics and Money in Formula1 and that is where the reason lies.
Daniel Ricciardo is supported by Red Bull Racing and has been Toro Rosso's Friday test driver all of 2011. His performance has been well appreciated and Red Bull Racing were contemplating replacing Ricciardo with Jaime Alguersuari in the latter half of the season. Alguersuari has been Q1's fall guy at most races this season.
Red Bull Racing has certainly paid HRT to buy Ricciardo a race seat, giving the young driver some much needed track time. The money and might of Red Bull Racing has worked in Ricciardo's favour and cannot be compared to TATA Group's backing and investment to the HRT team. Basically, Dietrich Mateschitz is a more powerful personality in the F1 Pit lane than TATA Group's Ratan Tata.
Politics aside, what do you F1 fans think will happen to Narain Karthikeyan?