We've had a slightly funny time in Formula1 when it comes to team names. After all, last year we had a team called 'BMW Sauber Ferrari'! This year we had two teams calling themselves 'Lotus'.
For the 2012 Formula1 season, we have yet another set of teams changing their names. Team Lotus Racing will be called Caterham F1 Team. Virgin Racing will be called Marussia Virgin Racing and Lotus Renault GP will be called Lotus F1 Team next season.
As much as it may seem, changing your team's name is extremely difficult in Formula1 and needs approval from all the Formula1 team bosses, a few other important people in the FIA and the F1 Commission. It is not as simple as changing it on the company paper and needs to be stamped off by the relevant authorities.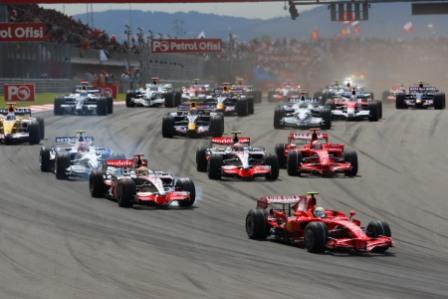 A name change also would result in teams losing their revenues earned from participation in the previous season. This is infact the reason why we had a team called BMW Sauber Ferrari in 2010. The team's name change to 'Sauber F1 Team' reflected only in the 2011 Formula1 season.
I have had readers asking me why team names are so difficult to change and why approvals are sought from so many stakeholders of the sport. While it is difficult yet, many Team Principals are in favour for easing name change regulations in the sport.
F1 teams change names when there is a 'Title Sponsor' involved or when the team has a new investor buying a majority stake. (eg: Virgin Racing changed to Marussia Virgin Racing) However, in the last few seasons, we have seen more than 10 name changes in Formula1 and this is where the current regulation comes into play.
Teams succeed in Formula1 (off-track and commercially) once they become brands and marketing gurus have often said and written that brands can't be built overnight. Constant name changes of course work against brand building. Ferrari, Mclaren and even Williams are a testament to building the brand of a Formula1 team over decades and it is not surprising when they have the largest number of fans and followers online and on-ground. Infact, sponsorship associations stand to benefit from stronger team brands like Ferrari and Mclaren. Case in point: Marlboro and its two decade old sponsorship of Ferrari.
By the way, how many of you still remember Brawn GP? But if you've followed Formula1 for a while, team names like Minardi and even Orange Arrows F1 will be fresh in memory and how can one forget the Jordan Grand Prix team. So you get the point?
But Formula1 operates in a very cash intensive environment so when the team attracts new sponsorship or investment, one can't not change their team and hence brand name. Teams can't survive without sponsors and/or investors, so name changes will keep occurring in Formula1. It is only the process of changing names that probably will change sooner or later!
Having made my point, I don't think the current regulation was made to protect the brand names of Formula1 teams!