Okay, I admit, I wasn't the biggest fan of David Coulthard (DC). And even if I tried, it would've been difficult to be one. After all, he raced in the era of Michael Schumacher and Mika Hakkinen. And I know I am not the only one. But what's strange, is that Coulthard is aware.
Rishi and I had the opportunity to meet, talk and be with DC as we helped him prepare for his debut on the Inside Line F1 Podcast – much like the Red Bull Racing and Renault engineers helped him prepare for his debut in Hyderabad for the Red Bull F1 Showcar Run. Yes, for those who remember, we had Nico Rosberg earlier on the podcast too. (Read: Nico Rosberg Takes The Inside Line)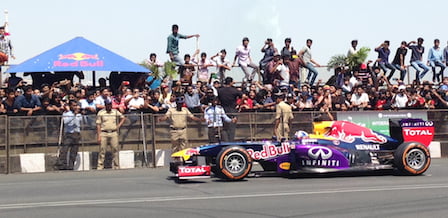 In the week leading up to the 'talk' with Coulthard, Rishi and I researched well. We simulated conversations, questions and even answers, but that's what Formula1 is all about. After all, we were talking to the one man who is pretty much our link between the present and the past, but also is the man who we weren't the biggest fans of. So we knew we had to research well, to keep Coulthard interested, and of course, our listeners too.
Our conversation with DC was extraordinary. He took to the 'humour' genre very well and ended up sharing some really exciting and funny anecdotes of the sport that most fans wouldn't know. He also talked his competition with Schumacher, Hakkinen and why he is content not being a Drivers' World Champion. And interestingly enough, he tells us why the Inside Line F1 Podcast (Rishi and I) might never make money from the podcast! Sigh! But even then, it is hard to leave the discussion without feeling respect towards DC without having taken the first few steps towards fan-dom!
But this week's episode is probably the biggest one (yet) in the history of our podcast. Besides speaking to DC, we also had the opportunity to meet a handful of Formula1 fans, speak to them about the new era of the sport and seek their views. Apart from that, I also met Latesh, one of the earliest readers of my Formula1 blog and listeners of the Inside Line F1 Podcast. Feels good to know that we are well listened to and that our opinions and jokes on the sport matter.
So tune in and laugh out loud with David Coulthard, Rishi Kapoor and me in this week's special episode of the Inside Line F1 Podcast. And before I forget, a BIG thanks to a few of our listeners for sharing fan questions. We had all intentions to mention their names after asking their question, but the lack of time made us re-work the discussion pattern. I missed out mentioned Ajit, Darshan, Ian, Jamie, Lucien and others for their inputs on the discussion points.
PS: We have LOADS of content from the Red Bull F1 Showcar Run, tune in to our channel and on our social media to access it.
 The 
Inside Line F1 Podcast
 is now available on various platforms and I would welcome you to choose your platform to listen to the humour that we add to the otherwise serious and complex sport of 
Formula1
. And while our podcast frequency is weekly, come 'like' the 
Inside Line F1 Podcast
 on 
Facebook
 and on 
Google+
 for far frequent humorous updates from the world of Formula1.
If you are an Apple user, you can subscribe to the Inside Line F1 Podcast on the iTunes Podcast Store or via our RSS feed (for Android/Windows/Blackberry users). The Inside Line F1 Podcast is also available on TuneIn Radio.
The Inside Line Formula1 Podcast is produced and hosted by Rishi Kapoor and Kunal Shah. Follow us on Twitter and on our Soundcloud, DailyMotion, Spreaker, MixCloud and YouTube channels.