We're in the 65th year of our sport of Formula1. I am not sure about any other sporting category, but in the category of Motorsport, this is possibly the longest run annual World Championship. One of the most visually appealing man-machine duels in the world, the sport has possibly a million images and videos of the heroes (and zeroes) of the yesteryears, the victories, the near wins and the near losses, the crashes, exciting wheel to wheel battles between world famous drivers and more. (Read: What's Wrong With Formula One?)
In a world where 'content is king', Formula1 is in position to share this exciting content with fans on a regular basis and maintain the interest between races. Especially in times where the movie Rush was more spoken about (and possibly viewed?) than the Mercedes dominated 2014 Formula1 Season. (Read: What Formula One Can Learn From Rush)
I have written about this before and I say it again – Formula1 needs to invest in its own marketing. Currently, it relies on team sponsors and the local organisers to generate fan interest. And what's most surprising to me is that the sport makes more money than the stakeholders who currently end up marketing it, which means that the stakes are only that much higher for the sport. (Read: Formula One Needs To Market Itself Better)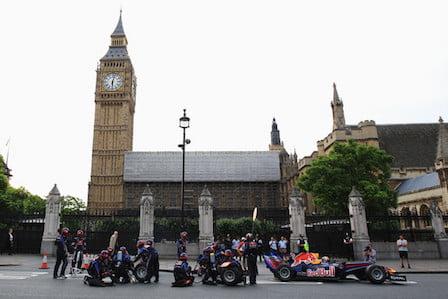 To me, Formula One Management needs to create a kitty, either self funded (will be a drop in the ocean of the millions of pounds of profit every season!), or funded by the teams (Oops! Yet another investment!) to help run its marketing causes – especially in newer territories like Russia, China, Abu Dhabi, etc. Could the Indian Grand Prix have succeeded if the sport had marketed itself better? I often wonder. (Read: How To Save The Indian GP)
But this is Formula1 – a sport where unity is tough to find (unless it is to ban helmet design changes – Helmet Ban(ter)!), so the common kitty is like a dream that might not come true. This is where I believe Formula1 can learn from and emulate Red Bull. The energy drinks company that has invested in various sports globally to showcase their brand (no, I don't mean that Formula1 needs to invest in other adventure sports!). Red Bull's Content Pool is what the Formula1 marketing team (is there one?) should be looking to copy – and copying isn't new to the sport! (Read: Did Bernie Call Mercedes…?)
Red Bull invests in extensive production capabilities to create interesting content (in text and video) around these sports to spread the word, increase engagement and create more interest. I think Red Bull has more Formula1 videos (on Red Bull Racing and non-GP ones at that) in their pool than any other team or the sport for that matter. Strangely enough, for generic videos, it is 'fan videos' on YouTube that fans rely on – that is if Formula One Management hasn't already pulled them down for copyright infringement. (Read: TATA Communications With Change Your Formula1 Experience)
Imagine if videos of Prost vs. Senna, Schumacher vs. Hakkinen, and the other greats from the yesteryears were packaged well and uploaded in a content pool controlled by FOM. Fans, especially the new age ones, would be able to relive those old memories and actually get to see why those drivers were regarded as valiant heroes and champions rather than read about it from a handful of journalists from that era. (Read: Formula One Puts Fans First)
These videos could be used as marketing tools between races. And if FOM is worried that 'free' access to their archives isn't worth their time and money, I don't see why a nominal fee can't be charged for fans to spend hours just accessing older content (yes, one more avenue for Bernie to make money!). If a fan knows that 'Rush' type short format videos are available for viewing, I wouldn't be surprised if more fans tune in to these videos than the modern era of Formula1 that has failed to generate and sustain fan interest. (Read: Formula Yawn)
Nearly a decade after Twitter was founded (2006), Formula1 has hesitantly and only just taken to the medium this season – nearly six or seven years after the teams took to it. @F1 does a good job of sharing interesting content from the past (a couple of videos are out already) and some statistics from their newly launched (and charged) live timing controls. The fraternity has rejoiced their arrival on the medium and much like Honda, they've some catching up to do. I am only glad that there's no 'token system' to develop the Twitter handle. But of course, they've ignored Facebook, Instagram and the others. I guess it is time to learn from Red Bull, or just let them come and run your marketing.
A selection of a few really interesting Formula1 videos from the Red Bull Content Pool:


The Inside Line F1 Podcast partnered with Red Bull to deliver to you this special episode with David Coulthard – 'At The Red Bull F1 Showcar Run in Hyderabad with David Coulthard'.