I read this piece of news during my usual Formula1 research and readings and was surprised to see that this announcement wasn't as publicly spoken about or discussed as the others. Infact, this association was announced when Red Bull racer Daniel Ricciardo was present in Delhi last week at the Red Bull Speed Street in Delhi where he drove the Red Bull Racing car at Rajpath. There are plenty of one-off grand prix deals being struck for the inaugural Indian Grand Prix and they have been making waves in the sports marketing and sponsorship industry in India. However, this Red Bull Racing – Big Bazaar announcement has missed the media scanner completely it seems.
Amul and Sauber announced their tie-up for the Indian Grand Prix and so did Hero and Hispania Racing alongwith Narain Karthikeyan. This Red Bull Racing – Big Bazaar tie-up appears to be a barter association with Red Bull Racing using Big Bazaar's mass base and reach to promote their racing team. The World Champion team will be hosting events and activities at the various Big Bazaar outlets in the country and will carry the Big Bazaar logo on the RB7 racing cars.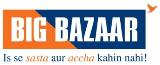 Big Bazaar is the retail arm of the Future Bazaar group with 210 stores in 80 cities across India. With Diwali and the Indian GP dates falling in the same week, Big Bazaar stores across the country will witness great traction as consumers will throng their stores for the annual festive offers and this time they might get to witness a Red Bull Racing F1 car and possibly even get a glimpse of their current drivers Vettel or Webber. Quite an inexpensive route to reach out to the mass Indian audience!
Red Bull is not new to such a deal. They had tied up with 7-Eleven, yet another retail chain, for the 2011 Singapore Grand Prix.