The scales are finally tilting in favour of Indian Motorsport! After many decades of waiting, car manufacturers are finally taking interest and investing in Indian Motorsport. Yes, their ultimate goal is to sell more cars via these initiatives, but it seems that one of the best ways to attract the growing Indian youth and create a cult following is by associating with motorsport.
If you're a car manufacturer, racing is in your DNA. If the success of the Indian Grand Prix is anything to go by, the times ahead will surely be exciting. Probably the best time to be a budding race driver or team owner in Indian motorsport. Not only is the awareness of the sport increasing, but manufacturers are coming forward and embracing motorsport in India.
Up until now, JK Tyre and MRF were the key investors in Indian motorsport and they sponsored teams, drivers and even championships. Volkswagen made an entry with their globally famous Polo Cup about two seasons back and became one of the only car manufacturers involved in the sport in India.
However, at the recently concluded Auto Expo, Toyota announced their 'Toyota Racing Development' program on their Etios and Etios Liva platforms. The key aspect of the program would be the 'Toyota Etios Motor Racing Championship' which will be held on similar lines as per the Polo Cup.

Toyota's motor racing initiative aims to identify and nurture young Indian talent by going to various Indian cities and performing road shows. Their first such show was held in the city of Chandigarh a few days back. More on their initiative:
–          Name: Toyota Etios Motor Racing Championship
–          Car: Etios (will be followed later by the Etios Liva)
–          Age Group: 15 – 24 years
–          Last date of registration: 15th February 2012
–          Prior Experience: basic go-karting
–          Application process: online (www.toyotaetiosmotorracing.in)
Online applications will be processed offline at the venues along with valid documentation
Medical check-up mandatory
–          Cities (9): Chandigarh, Delhi, Ahmedabad, Pune, Hyderabad, Bangalore, Kolkata, Chennai and Cochin
–          Promotion dates: 28th January 2012 to 16th June 2012 (check out the events calendar here)
–          Expected circuits: Buddh International Circuit, Madras Motorsports Club and Kari Motor Speedway
Going by the data mentioned above, Toyota seems to have planned their entry into Indian Motorsport fairly well. They are involving their dealer network in this program, which offers a few benefits. First, it makes the program accessible across multiple cities where Toyota cars are sold. Second, the curiousity of their new championship will only drive more footfalls to their showrooms where prospects would be entertained via RC racing cars and simulators. Third, it makes the dealer feel a lot more involved and hence improves dealer relationships for the corporate brand.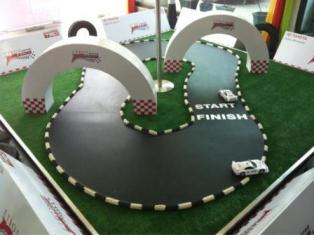 Red Rooster Performance (a part of former motorsport team, Red Rooster Racing) is expected to partner and tie up with Toyota and help set up the series and prepare the 25 identical racing cars on their Etios platform. While Toyota will provide Red Rooster with a car to use as a benchmark, the decision to outsource their race car preparation work is most smart. Red Rooster's Chief Technical Director N LeelaKrishnan is known to be the country's finest race car tuner and has over 25 years of combined experience in tuning rally and racing cars.
The Japanese car manufacturer will hold two exhibition races in 2012, followed by a full-fledged one-make racing series in the second half of 2013. Toyota's plan to launch and market their series nearly 18 months in advance is mighty impressive! Hopefully the series will gain much traction by the time they go racing and attract crowds at the circuits to watch the action live.
The most important element of the series is the drivers and this is where little has been disclosed yet. The age group is not most conducive for a nurturing a long-term career in motorsport, but has been set keeping in mind the target audience of the corporate brand.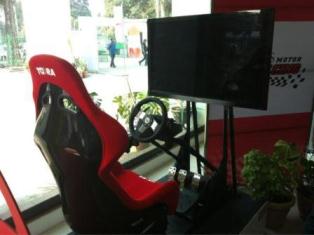 Driver selection will be done via selection camps which will be held from March to June 2012 and the main basis of elimination will be two karting rounds; venues of which haven't been disclosed yet. The final list will consist of 25 drivers. The selected drivers will be mentored and nurtured by former racing drivers as a part of the program.
While Toyota has quit racing in Formula1, they have a good lineage in motorsport and participate in respected international racing categories such as Le Mans and NASCAR. This new series could well offer talented Indian racers a firm step into international motorsport.
And just tweaking my earlier statement; if you're a budding Indian racer, this is probably the best time for you to go racing in India and get noticed!
Most read Formula1 post on my blog: Formula1 Needs To Be Marketed Better As It Enters Newer Territories
Follow the Indian Racing League and i1 Super Series coverage on my blog.