Nick Heidfeld's F1 career received a boost after Lotus Renault GP announced him as a potential replacement for Robert Kubica a day prior to the start of the pre-season test in Jerez. While we discussed Renault's dilemma (Who to choose: Nick Heidfeld or Bruno Senna?), Heidfeld topping the time sheets on Saturday would have gone a long way pleasing the Lotus-Renault pitwall too.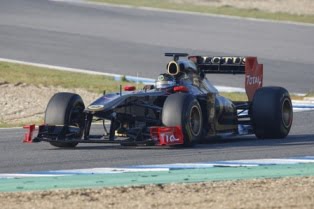 It is not surprising that Lotus Renault have sought Heidfeld's services to replace Kubica, after all he is a talented and experienced F1 racer. His career might not have been as illustrious as his countrymen Vettel and Schumacher, but Nick is regarded as a quick driver in the pitlane.
I have also discussed his strong points for 2011, especially having that extra bit of knowledge on the working of the Pirelli tyres.
So if I were Nick, this is what I would seek from Lotus Renault.
Firstly, a medium to long term contract instead of a stop-gap arrangement as Kubica's replacement. I would seek a multi-year (at least 3 years) contract to be a Lotus Renault racer. My return will secure Renault's short term future, but I would need Renault to acknowledge my need to secure my future in Formula1 too. After all, I have tested and driven for 3 F1 brands in 2010 (started with Mercedes GP, moved onto BMW Sauber Ferrari and then finally tyre-tester in Pirelli). I should be able to use the Lotus Renault opportunity to bring back the stability in my F1 career.
Secondly, I shouldn't be the obvious choice of replacement once Kubica returns. If I am the quicker driver and if I beat Petrov fair and square in 2011, I would expect to retain the seat. I don't want to be a push-over driver yet again. Lotus Renault GP have vested interests in hiring my services.
Thirdly, I will need to drive quick and be consistent! Beating Senna would help me secure my seat for 2011, but beating Petrov will go a long way in cementing my place in the team.
The above is a wish-list and I am hoping that Nick is able to crack a win-win deal with Lotus Renault GP. Well if he doesn't, I think he should consider hiring me as his driver manager.
Photos Alex Comerford