Nick Heidfeld was finally confirmed by Lotus Renault GP in the middle of last week. Only a fool would disagree with their selection of Heidfeld and I really hope that it's a win-win for both and not just a stop-gap arrangement till Robert Kubica returns to the car (Read: What Nick Heidfeld Should Ask From Lotus Renault GP)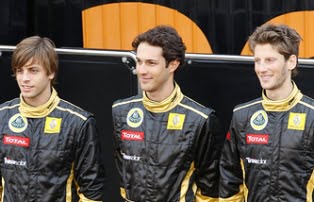 However, my thoughts go to Bruno Senna and Roman Grosjean, both of whom are Lotus Renault GP's test, reserve and third drivers. Shouldn't they at least have been considered as Robert Kubica's replacements? Yes, Senna was given a test, but it seemed more like a formality. I had questioned Senna's role as Lotus Renault's third driver, but it wasn't well defined and the team left it as saying he would be race-ready and will jump into the car anytime in 2011 should the need arise. However, the team and Senna didn't know that the need would arise within 10 days of their signing.
And when the need arose,  Heidfeld was the preferred option for Lotus Renault and that too for obvious reasons.
So what really is the use of being a team's third driver? In the earlier days, third and reserve drivers tested new components for the racing drivers to use. They tested (drove) often and were often groomed to take over as racing car drivers as a natural progression in the team. Felipe Massa did so with Ferrari and Paul di Resta, with Force India.
However, what's still the use of being a test driver? Barring limited running on Fridays and spinning laps in the team's simulator, their role is fairly limited on track. Their usage for PR, media and sponsor activities will only go up, but given the in-season testing ban, there is not much that they can do anyways.
From a driver's perspective, it does keep them in Formula1. It keeps them on the F1 team's radar, should a racing seat be made available, they would want to be considered. While being a third driver may hold merit in Formula1, the activities and usage probably don't. If I was a third driver, I would do what Paul di Resta did – test on a few Fridays and simultaneously race in another championship and win it to pressurize the team into hiring me as their race driver!
photo Alex Comerford