Racing action at the Spa Francorchamps circuit saw a few red flag sessions this weekend during the GP2 and GP3 races. While Formula1 didn't see any, the opening lap incident did raise a few eyebrows and point fingers towards two drivers who have struggled to stay out of trouble in most races of the 2012 Formula1 season.
Keeping the not so pleasant part of the sport aside, Jenson Button won a pole to flag race in Belgium ahead of Sebastian Vettel and Kimi Raikkonen.
My thoughts from the 2012 Belgian Grand Prix:
Button's pole to flag win was the first for any driver this season. His race pace was almost unmatchable and he pulled off a sizeable lead which appeared never to be under threat. His win however makes little difference to the Drivers' Championship standings and I am sure Alonso will be celebrating with Button tonight!
Vettel drove a one-stopper strategy to finish on the second step of the podium. He did benefit from the first corner incident and his 18 points haul means that Alonso's lead is now cut down to 24 points.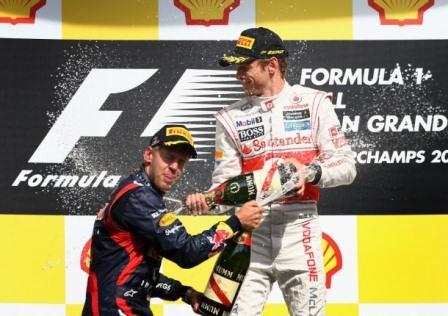 Webber could only manage 6th on his two-stopper strategy. Pre-race, Red Bull Racing were worried about excessive tyre wear and made a strange request to all teams to have mandatory three stops during the race. I wonder then how Vettel managed to go around the twisty Spa with just two sets of Pirelli rubber!
And sticking to Pirelli rubber, the 2012 compounds are more durable than the ones used in the 2011 Formula1 season. I was surprised that Button and Vettel could lap around the circuit on just one stop!
Raikkonen finished 3rd and I would say that I was disappointed with Lotus' race pace in Spa. He was the favourite to win and it seems that the E20 struggled in the cooler conditions. However, Raikkonen is the only other driver after Alonso to score 6 podium finishes this season. But, will he ever win a race this season?
If Kobayashi and Maldonado were the surprises in qualifying (Read: 2012 Belgian GP Qualifying), Sahara Force India's Hulkenberg was the surprise in the race. He made the most of the first corner incident, overtook Raikkonen and was running 2nd in the opening stages of the race. He finished his career-best 4th place, earning his team 12 valuable championship points. Paul Di Resta suffered from a pre-race KERS failure and slipped backwards at the start of the race. However, he managed to finish 10th and add a point to the team's tally.
With Sauber and Williams failing to score, Sahara Force India's 13 points haul saw them jump ahead of Williams and currently lie in 7th place, 21 points behind Sauber. If the action in Spa is anything to go by, the mid-field teams will spice up the action going forward! Watch out!
Schumacher was the other star driver in Spa who managed to entertain the crowds with some good driving. He could only manage 7th as the Mercedes ate its tyres up faster than all others! Rosberg finished a second behind Di Resta in 11th. Mercedes currently lie 5th in the Constructors' Championship with 112 points and I doubt they will be able to close in on Ferrari and Lotus given their performance challenges in the last few races.
And the Schumacher – Vettel tussle on-track was interesting as the old German pulled off a cheeky move at the entry of the pitlane. Thankfully, the FIA didn't penalize him for that!
Sauber showed that they were extremely quick in Spa and were unlucky to get caught out in the first corner incident. Should their pace continue, I would not be surprised if they challenge Mercedes for 5th place in the championship!
There was also double delight for the Toro Rosso as Vergne (8th) and Ricciardo (9th) both managed to finish in the points.
Massa drove a decent race to 5th to finish ahead of Webber, which I am sure Ferrari and Alonso are happy about. A few lesser points for the Australian who is 3rd in the championship.
The new comer teams barely had any different race than they otherwise would. Though I would say that Karthikeyan had a weekend to forget after he spun out and hit the barriers leading to retirement.
And here are my thoughts on the post-race penalties that the FIA dished out towards Grosjean and Maldonado:
The opening lap incident was certainly triggered by Grosjean and the resulting damage was what shocked most fans and personnel in the Paddock. Whether he took out championship contenders or someone else is secondary, but his move can surely be deemed as unsafe.
Unfortunately for Grosjean, he has been involved in incidents in 7 races out of 12 this season and hence would have had little to defend against the Stewards. And of course, a one-race ban is always harsh, but was necessary in this case.
Hopefully Lotus will exercise the option of promoting their reserve driver Jerome d'Ambrosio to a race seat in Monza next weekend.
As for Maldonado, had there been a championship for picking the maximum number of penalties, he would surely be topping the tables! In qualifying, he picked up a three place grid penalty. During the race, the jump start caused him a 5 place penalty for Monza and by getting involved in an incident with Glock, he added 5 more! This means that he already has a 10 place penalty for Monza! Now what if his Williams needs a gearbox change or if Maldonado picks up yet another penalty for a driving incident? It would be fun to see if he would be the first driver to pick up a 15 place grid penalty in the sport!
Spa will also be known for Hamilton's antics on Twitter! While I don't think much of a reaction to his 'WTF' is needed, the tweet where he put up a picture of his telemetry data in comparison to Button's did surprise many! Mclaren asked him to remove the tweet, but I do wonder why he did put it up in the first place. Was it because of the team's suggestion to use the new rear wing on Button's car and not his?
The 2012 Italian Grand Prix is next weekend and like I keep saying back to back GP weekends are fun! I think Mclaren are the team in form while Spa and Monza have traditionally been the Achilles heel for Red Bull Racing. Will Ferrari have an ace up their sleeve in their home race? And more importantly, will Sauber still be menacingly quick! Oh yes, I think I am going to stop wondering if Raikkonen or Schumacher will win a race at all this season!